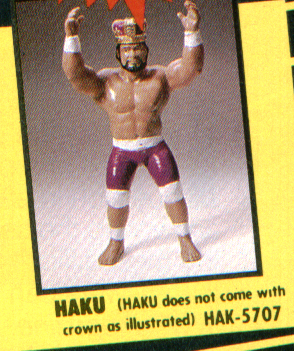 Longtime Crappers will remember the above image from the back of a Bill Apter magazine.
The L.J.N Haku did in fact not come with crown as illustrated.
But you know the worst part?
I was browsing this Wrestling Card Collection Page, and I found a page listing all the L.J.N cards that were on the back of the cardboard backings for the figures.
…and look what I found! Look at the picture of Haku they decided to use on the card that came with the Haku figure (which I'll remind you did not come with a crown!)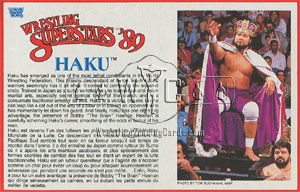 What is that thing perched upon his noggin in that picture?
Why yes, it is in fact a crown!
I swear these sadists at L.J.N are just teasing us with this stuff!
But it's okay, because years later Jakks finally did the right thing and released a King Haku figure WITH CROWN!