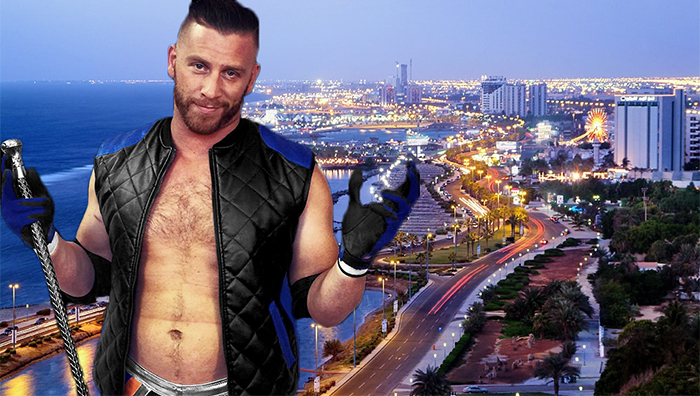 Jeddah, Saudi Arabia – As a token of his appreciation for hosting the Greatest Royal Rumble, Vince McMahon has given WWE Superstar Curt Hawkins as a gift to the hosts of the event.
"We have had an absolutely incredible time here in Saudi Arabia," said McMahon in a press conference. "The people, the culture, the food. The piles of money they gave us. It has all been absolutely wonderful. As a token of our gratitude I would like to personally give the Saudi royal family their very own wrestler. Please say hello to the newest member of Saudi Arabia: Former tag team champion Curt Hawkins!
Camera lights flashed as an uneasy Hawkins smiled and waved to reporters and photographers.
"I, um…is this legal, Vince?" asked Hawkins quietly to McMahon.
"Check your contract, pal," dismissed McMahon. "Page 14, Section C, fifth paragraph. It's all in there. I am also legally allowed to use you as collateral in a poker game."
"Hawkins will serve as the Minister of Sports Entertainment for the country," declared McMahon. Hawkins will also serve as an English teacher, chauffeur, maid, cook, food tester, body double, umbrella holder, pet walker, and pillow fluffer."
"Naturally, there will be a bit of an adjustment, so they have ninety days to try out Hawkins. They can always trade him in for Zack Ryder if they prefer," said McMahon
"What about my family?" asked Hawkins.
"We'll have them shipped over by FedEx," answered McMahon. "Don't worry. That's the only way we let Mojo Rawley travel."