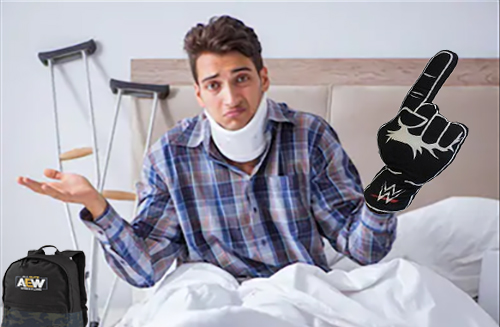 Boston, MA – As the smoke clears from this past Wednesday night battle between All Elite Wrestling and NXT, fans have been left to pick up the pieces. The explosive night of high-energy wrestling left many fans dead and even more injured.
Area emergency rooms and walk-in clinics were flooded with people sustaining injuries from the Wednesday Night Wars.
"I haven't seen this much blood since the last time a slight breeze hit Ric Flair!" said St. Barnabas Hospital surgeon Dr. Thaddeus Black. "Broken legs from jumping up and down too much. Ruptured vocal cords due to extensive yelling. Explosive diarrhea after eating Little Caesar's pizza. What a mess."
Some fans weren't so lucky.
"We were just sitting on the couch watching Dynamite," explained recent widow Gianna Alfonsi. "When Jon Moxley put Kenny Omega through that glass table, my husband Anthony just spontaneously combusted. It was too much for him to take on a cellular level."
"My girlfriend Stacey kept changing channels back and forth, afraid she would miss something," said Michael Phan, choking back tears. "She just clicked faster and faster. I went to get popcorn from the kitchen and when I came back, she was engulfed in flames."
Both WWE and AEW have deflected any blame.
"We here at WWE offer our thoughts and prayers to anyone hurt on Wednesday night," said Stephanie McMahon. "It is always a tragedy when people are unnecessarily hurt or killed. Now who's ready for Crown Jewel!?"
AEW has announced that they will start this week's episode of Dynamite with a ten thigh-slap salute.