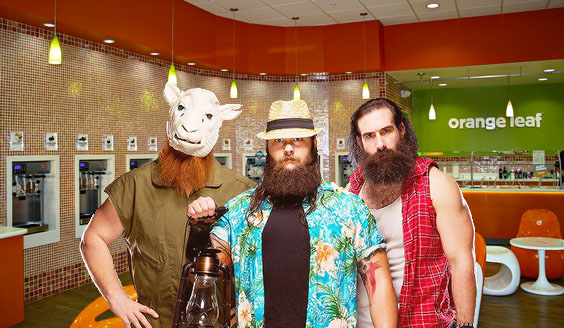 Possum Bluff, FL –This past weekend, the Wyatt family ventured from their backwoods compound To prepare for their battle against Undertaker and Kane at Survivor Series.
Luke Harper, Eric Rowan, and Braun Strowman climbed into Bray Wyatt's 1998 Dodge Caravan.
"Don't forget to buckle your seats, boys," said Bray, adjusting his rearview mirror.
All three silently complied as Harper turned up the music on his iPod and Rowan played Angry Birds on his cell phone. Strowman quietly watched an episode of Daniel Tiger's Neighborhood on Bray's portable DVD player.
The first stop on the trip was Old Navy, where the group tried on several new outfits. Harper and Strowman both picked out new filthy tank tops and wool socks. Rowan pouted as Bray told him to try on a pair of pants he liked.
"Do it, mister," commanded Bray. "I'm not spending $14.99 just for you to put them on right before Survivor Series and they don't fit."
The Wyatts then went to Ward's Supermarket to pick up grocery items for the week.
"Okay, boys. You each get one special item. Go grab it and put it in the cart," said Bray while looking through the store's weekly circular. "Hmmm. $0.99 per pound for broccoli. That's a great deal," said Wyatt to himself.
Harper returned first, placing a family-size bag of Cool Ranch Doritos into the cart. Rowan followed with a box of Strawberry Kiwi Capri Sun. Strowman slowly walked to cart and shyly placed a crumpled box of Lucky Charms inside.
"Braun," said Wyatt sternly. "Go get another box, please. Be gentle this time,"
Strowman hung his head and shuffled off to get another box of cereal.
The final stop on the trip was at a Spooky Town Halloween store. Since the holiday had already passed, most items were marked down considerably. The Wyatts gathered up a smoke machine, a strobe light, a few bags of synthetic spider webs, 2 gallons of fake blood, a plastic sickle, and rubber vampire teeth. The trip was almost a complete success until Strowman found a life-size Frankenstein in the corner of the store.
"Friend?" said Strowman looking at the monster. "Friend!" he yelled while embracing it.
"Oh, man, he's being weird again," said Harper as he rolled his eyes.
"I wanna go home!" said Rowan, stamping his feet.
"Boys, if you're good, I'll take you all for some fro-yo at Orange Leaf," said Bray.
"Yay! Fro-yo!" shouted all three in unison.
"We'll be good!" said Harper.
"Sorry for being a bunch of butts," said Rowan
"We love you Bray!" said Strowman
"I love you, boys," said Bray, tears welling up in his eyes
The Wyatt Family paid for their items and went for frozen yogurt, happily planning a supernatural attack to destroy the Undertaker and Kane once and for all.