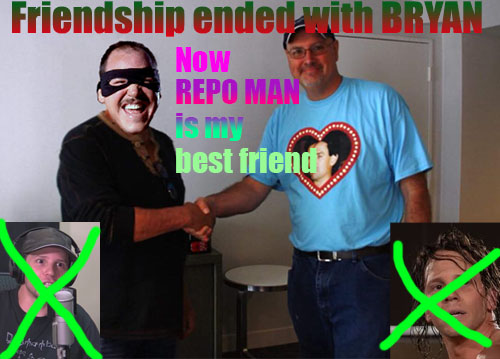 Bothel, WA – A fifteen-year friendship between Figure Four's Bryan Alvarez and Wrestlecrap's RD Reynolds has come to an end following a disagreement over former wrestler Repo Man.
The acrimonious split came after Alvarez went on extended rant on his podcast saying, "Nobody's worse than the Repo Man, you got it?! What redeeming quality does the Repo Man have? None! Zero! The fucking Repo Man is the worst character in wrestling history. I stand by that! I will not hear otherwise! He's even worse than LOD with this fucking puppet!"
RD Reynolds respectfully disagreed in a light-hearted Facebook post. Unfortunately, the response has led to a lot of bad blood between the co-writers of The Death Of WCW, now available on Amazon.com.
"Bullshit!" screamed Alvarez during last night's Bryan & Vinny & Craig podcast. "I'll chop that stupid Indianapolis Colts hat right off your head, Reynolds, you goof. At the end of the day, Repo Man is worse than the Gobbledy Gooker. At least he danced! What did the Repo Man do? Nothing!"
"Perhaps you're overreacting just a little bit," said Craig calmly.
"I'll chop that fucking goatee right off your face, Craig!" shouted Alvarez.
"What does any of this have to do with us reviewing Fall Brawl 1994?" asked Vinny.

"That's it! You're all getting chopped to hell!" yelled Alvarez before abruptly ending the show.
"Bryan is just plain wrong," said Reynolds on this weekend's Wrestlecrap Radio. "Repo Man is a delight and WWE could use a lot more of what he brought to the table. He could steal Baron Corbin's button down shirt or repossess Samoa Joe's towel. Pardon my French, but this whole thing has me flipping vexed. Bryan, you're being a real jerk. There, I said it! You're no longer welcome at Rupert's Arcade!"
"Yeah," said his podcasting partner Blade Braxton.
Plans for the duo to write The Death Of TNA have been put on hold indefinitely with Alvarez saying, "The next thing I'm going to write is The Death Of RD Reynolds. You can read about it in the obituaries!"