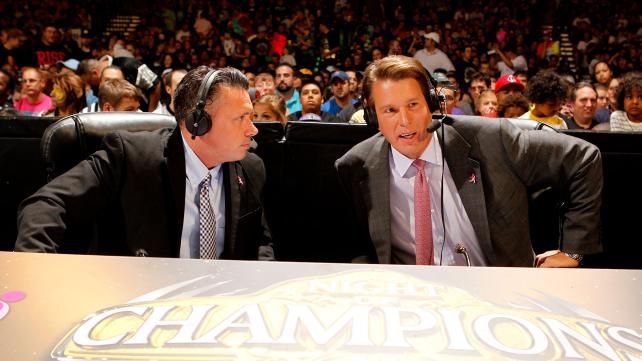 Cleveland, OH – WWE officials announced today that current commentator John "Bradshaw" Leyfield has been promoted to the position of Lead Annoyer for episodes of Monday Night Raw and pay-per-views.
Layfield, better known by fans as JBL, wrestled for the company, amassing 24 championship title wins before settling into the commentator role in 2012. JBL's persistence and tenacity was noticed by several higher-ups in the organization, especially Vince McMahon
"The promotion should come as no surprise to anyone watching WWE," said McMahon. "JBL has been working very hard this year to be as annoying as possible. He takes what I say over the headphones and really cranks up the jerk-factor. Whether it's pointing out the mistakes of his co-workers live on air or switching between heel and face, or just being unnecessarily loud, JBL has proved that he deserves this opportunity."
"I deserve this and everything that comes to me!" shouted JBL. "I promise to be louder! I promise to get into more fights with Michael Cole! I promise to make references so obscure that Dave Meltzer will cry! I promise to shout 'Uce! Oh!' at inappropriate moments! This is the greatest day in our sport's history!"
Former Lead Annoyer Michael Cole congratulated JBL on the promotion. "I'm glad to have been annoying for so long. I know that I'm passing the torch to someone that has earned it in every possible way imaginable."
Fellow announcer Byron Saxton has already taken a cue from JBL's commentating style and has started to speak using his big boy voice.