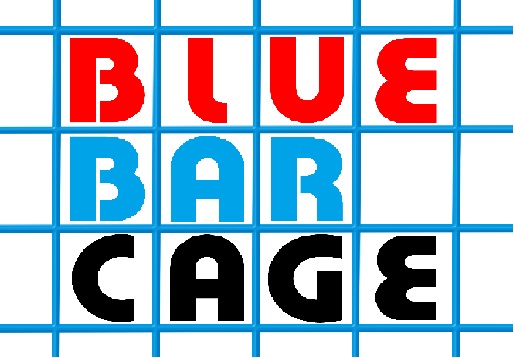 Blue Bar Cage: WrestleMania XXIX: Unusual Stats and Predictions
by Justin Henry
WWE Tag Team Championship: Daniel Bryan/Kane vs. Dolph Ziggler/Big E Langston
-Kane becomes the fifth man in WWE history to defend Tag Team Titles at WrestleMania with more than one different partner: IRS/Mike Rotundo (Barry Windham at 1, Ted Dibiase at 8 and 9), Billy Gunn (Bart Gunn at 11, Road Dogg at 14, Chuck Palumbo at 18), Owen Hart (British Bulldog at 13, Jeff Jarrett at 15), and Big Show (Kane at 22, The Miz at 26).
-Dolph Ziggler is the first man to enter WrestleMania while still in possession of a Money in the Bank briefcase.
-No set of Tag Team Titles have changed hands on WrestleMania's main card since WrestleMania X7 in 2001, when Edge and Christian won TLC (Dudley Boyz were defending champions).
PICK: If this opens the show like I think it will, it'll get the crowd going to have the faces win, but "save" Dolph for later. Going with the champions.
Ryback vs. Mark Henry
-Ryback is the only member of the Nexus 7 (excluding Daniel Bryan's brief tenure with the group) to have a match on WrestleMania's main show. Wade Barrett was moved to the pre-show, Michael Tarver is gone from the company, and Darren Young, Heath Slater, Justin Gabriel, and David Otunga are all without matches.
-Mark Henry just scored his first WrestleMania win last year (as part of Team Johnny), bringing his WrestleMania record to 1-3. This will only be his fifth WrestleMania, despite being employed by WWE for nearly 17 years.
PICK: Ryback needs the win after a million consecutive PPV losses, and Big Mizark, as much as I love my fictitious cousin, isn't getting any younger.
Chris Jericho vs. Fandango
-Fandango is only the second NXT winner to compete at WrestleMania, after Wade Barrett. Kaval and Kaitlyn have yet to do so.
-This will be Chris Jericho's first non-title WrestleMania match since XXV, when he wrestled Ricky Steamboat, Jimmy Snuka, and Rowdy Roddy Piper in a handicap match.
PICK: Jericho's stated in interviews that he has no problems putting others over, and is happy to do so. Fandango's getting scorching heat for his act, and I see Jericho easily being his first victim.
World Heavyweight Championship: Alberto Del Rio vs. Jack Swagger
-Alberto Del Rio becomes only the second Latino to defend a World Title at WrestleMania, following Eddie Guerrero at XX
-This will be the first World Title match in WrestleMania history in which champion and challenger are each seconded by a full-time manager. (Closest other instance was Savage vs. Flair at 8, but Elizabeth came out only halfway through the match; Flair did have Mr. Perfect throughout.)
-A heel has retained the World Heavyweight Championship two times at WrestleMania (Triple H at 19, Chris Jericho at 26), but has never captured it from the champion.
PICK: Del Rio retains, but gets his ankle tweaked in the process. He's left vulnerable for Dolph, who cashes in and wins the title.
Undertaker vs. CM Punk
-The only other wrestlers to be undefeated at WrestleMania with 3 or more wins: Rob Van Dam (4-0), Animal, Hawk, Sable, Demolition Ax, and The Miz (all 3-0).
-CM Punk did something last year that Undertaker has never done in his entire WrestleMania career: successfully defend a World Title.
-This will be the first time Undertaker wrestles somebody managed by Paul Heyman since Survivor Series 2004, when Heyman managed Heidenreich.
PICK: Hated the hell out of the build, no matter how much Punk tries to defend it. Can't see Punk winning here, especially since he's allegedly taking time off after.
The Shield vs. Big Show/Randy Orton/Sheamus
-Roman Reigns becomes the eighth member of the Anoai-Maivia bloodline to compete at WrestleMania, following The Rock, Samu, Rikishi, Umaga, Sika, Tama, and Yokozuna. Afa served as a manager at WrestleMania IX, and in-law Rocky Johnson appeared at WrestleMania XIII.
-Seth Rollins is only the fourth former ROH Champion to compete at WrestleMania, following CM Punk, Jamie Noble, and Daniel Bryan.
-Big Show, despite his image as a WrestleMania loser, has won his last 3 WrestleMania matches, improving from 1-8 to 4-8.
PICK: Hard to say: The Shield has been built so magnificently, and there'll be many other chances that babyfaces shine Sunday night. I think Shield wins, and we build to an Orton heel turn.
No Holds Barred: Triple H vs. Brock Lesnar
-If Triple H loses, he becomes the second man in WrestleMania history with 10 losses at the event (currently 7-9). Shawn Michaels (his cornerman) is 6-11.
-Triple H becomes the first man to face the "OVW Class of 2002" at WrestleMania: Batista (21), Cena (22, 24), Orton (24, 25), and now Lesnar. If the rumors of The Rock facing Lesnar next year are true, Rock will achieve the same feat (Batista and Orton at 20, Cena at 28 and 29).
-WrestleManias 24 through 27 saw somebody wrestle their final WWE match: Ric Flair at 24, JBL at 25, Shawn Michaels at 26, and Edge at 27. Nobody retired last year (though Booker T is semi-retired and hasn't competed since the 12 man tag), but a Triple H loss makes 5 out of 6.
PICK: The presence of Shawn seemed to be done rather hastily and randomly, so one figures he could, somehow, cost HHH the match. But what would the payoff to that be if both are retired? I think Hunter wins to put Heyman at 0-2 for the night.
Tons of Funk/Funkadactyls vs. Rhodes Scholars/Bella Twins
-Naomi (born 11/30/87) becomes the youngest person chronologically to compete at WrestleMania, surpassing Snooki (11/23/87).
-Cody Rhodes becomes the third member of his family to compete in a mixed tag at WrestleMania (Dusty at 6, Dustin at 14)
PICK: Fun match before the mainer, probably. Easy win for the faces, who dance to celebrate.
WWE Championship: The Rock vs. John Cena
-If Rock loses, he joins Shawn Michaels as the second man in history to lose 4 WrestleMania main events.
-If Cena loses, he becomes the third man to lose three straight WrestleMania main events, following Rock (15-17) and HHH (20-22)
-This will be each man's tenth WrestleMania match (Rock 5-4, Cena 6-3).
-Prior to Sheamus last year, the last time a Royal Rumble winner won a World Title at WrestleMania was Undertaker in 2007.
-The last time the Royal Rumble winner won the WWE Championship (not World Heavyweight) at WrestleMania: Brock Lesnar in 2003.
PICK: I can't see Cena losing, since this feud, and Cena's need to win, is 2 years in the making. Cena's left a red herring, saying he can't turn heel for any reason, but that doesn't mean there won't be chicanery. Either way, I think Cena wins.