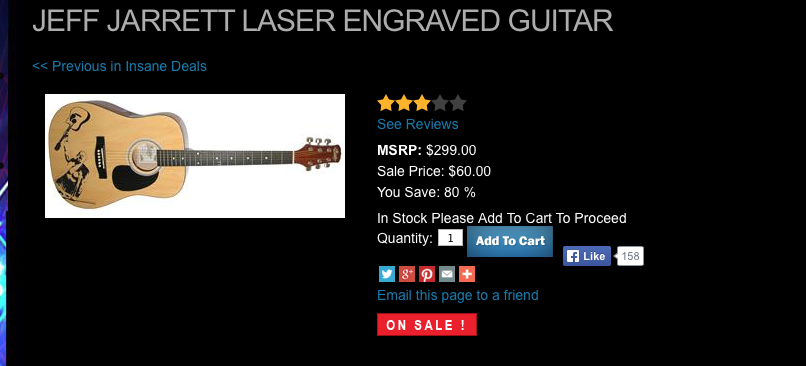 It's a TNA guitar with a laser engraved picture of Jeff Jarrett on it!
I'm just going to copy and paste the description right from the listing…
THIS IS WITHOUT A DOUBT THE COOLEST ITEM WE HAVE EVER HAD! IT IS AN OFFICIAL TNA GUITAR WITH TNA FOUNDER AND KING OF THE MOUNTAIN JEFF JARRETT LASER ENGRAVED ON THE GUITAR ITSELF.

IT IS THE MOST LIMITED ITEM EVER OFFERED AN ITEM LIKE THIS COULD GO FOR WHAT? A $1000? NOT ON MY WATCH, BABY!!!!

ONE TIME ONLY PRICE TO THE LUCKY FEW WHO GET THIS.

$199.99
ARE YOU KIDDING?
IN MY MIND THIS IS THE COOLEST AND GREATEST DEAL EVER OFFERED
BAR NONE! GEM MINT 10 BABY
ACT NOW!!!

PRICE $199.99
ALLOW 3 TO 4 WEEKS DELIVERY
If you think I made that up, here's a screenshot to prove I didn't!

So the MSRP was $299, but they had it on sale for $199.99, and it still wasn't selling so now it's on clearance for just $60?
That tells me they made a whole lot of these things, and that nobody wants them if they still have them in stock after Jarrett's been out of the company for so long.
And how sad is is it that they're still clinging to his country music gimmick from his first WWF run from 20 years ago?!