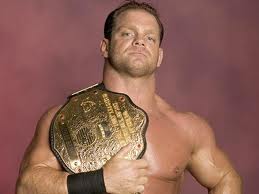 Among other thoughts of mine, while watching Super Bowl XLVII, I couldn't help but think about the sheer number of times the cameras panned to Ravens linebacker Ray Lewis….while he was on the sidelines.
The NFL, much like WWE, tries to "tell stories" to supplement the action, as a way of using human-interest drek to reach people not necessarily into sports. In Lewis' final NFL game, the primary pathos hook revolved around whether or not Lewis would ride off into the sunset victorious.
You've noticed the visage of Chris Benoit at the start of this article, and unless you know a little bit about American football, you may be confused as to its relevance. I'll quickly elaborate.
In January 2000, two men, Richard Lollar and Jacinth Baker, were brutally stabbed to death in Atlanta. The investigation figured upon Lewis, whose clothes that night were never found and was ultimately charged with both murders, agreed to plead guilty for obstructing the investigation in exchange for testimony against his two friends.
Those two friends were found not guilty, and Lewis merely received probation and a hefty fine from the NFL. Lewis also reached financial settlements with both families of undisclosed amounts, despite his alleged innocence.
I'm not saying he's a murderer, but……
And this brings me back to Benoit. Not only has the NFL been quick to promote Lewis for his fierce presence and playing acumen, but he's been one of the faces of the league for the better part of the last decade and a half, particularly among defensive players. Advertisers, such as EA Sports for one, have had no problem promoting him, despite that cloud of doubt that hangs over him.
In five years, Lewis will be inducted into the Pro Football Hall of Fame, unless the selectors feel his inclusion hurts the integrity of the Hall. For what it's worth, OJ Simpson was long inducted before his fall into infamy. But otherwise, Lewis is a lock for 2018.
WWE has publicly said that promoting Benoit would be wrong, despite there being ample evidence that his mental faculties were compromised by years of ring-related trauma. While I don't wish to rehash that whole sad ordeal, these two cases side by side create some worthwhile discussion.
While the NFL is certainly mightier and more respected in the public eye, doesn't it say something that they'll promote Lewis with such zeal, whereas WWE will go to great lengths to remove Benoit from any kind of perspective?
It speaks louder that the league will invoke OJ's name whenever a running back approaches the 2000-yard milestone in a season. I heard The Juice's name plenty of times in 2012 when Adrian Peterson was running down that mark, as Simpson was the first player to reach 2000 yards, doing so in 1973.
And it's not as if WWE is immune to openly associating with capital offenders. One of the inductees to the Hall of Fame a year ago was a man who served 3 years for rape, one Iron Mike Tyson. Of course, Tyson's more portrayed as a silly soundbyte machine than a crazed criminal these days, but that's all a matter of portrayal and public sentiment. If the people are willing to accept goofy Tyson, as opposed to rapist Tyson, then WWE is willing to play along.
My question to you is twofold:
1) If WWE, tomorrow, portrayed Chris Benoit in any way, would your reaction be more toward the negative, or just surprise?
2) Would a company that has survived calamity before have anything to lose right now if Benoit were to be acknowledged, mentioned freely, or even inducted into the Hall of Fame?