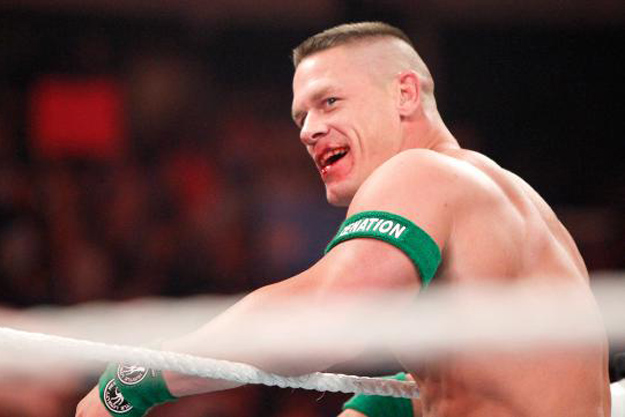 So word from the newsies is that Cena's show-ending promo from Raw went over about as well backstage as John Laurinaitis' old dress code policy did.
In other words, to Cena's peers, his promo was garbage.
To me, it was actually one of his less-annoying promos in recent times. Sure, he was a little off subject and irreverent, but it reminded me of one of those off-the-wall promos Piper'd cut about 20 years ago. He may have pandered a bit much, but it was at least lively and built to something: that the Royal Rumble won't be like any other Sunday.
The criticism, however, stems from the fact that Rock and Punk had each cut a serious, steely "I need to win the WWE Championship" promo earlier in the night, and Cena's work of abstract art paled in comparison.
Speaking of those Rock and Punk promos, I can safely say that I'm looking forward to the WWE Championship match now more than ever, and it's because of their promo work (particularly Punk's icy rebuttal after Rock was laid out by The Shield).
Could this be what WWE has been missing all along?
The last 3 PPVs that I ordered with great anticipation were WrestleMania and Extreme Rules last year, and Money in the Bank 2011.
All of them featured heavy, non-standard promotion for the main events and, oddly enough, they all involved Cena. But these types of promo builds are a rarity these days.
Maybe it's because Vince knows that kids will hang on Cena's fecal jokes, and beg their parents to buy those $55 PPVs he headlines, as opposed to the bitter generation that hails a Punk/Bryan World Title feud, and then streams the PPVs they face off on.
Or maybe going the serious route is the way to go?
MITB '11 and ER '12 had larger buyrates than usual, because fans wanted to see Cena/Punk and Cena/Lesnar, thanks to characters that stood out (Punk in his breakthrough, Lesnar returning) and the work that went into building the fights.
So here's my question: would you be more inclined to buy WWE PPVs if their big matches took these approaches? Or could it be that 12 PPVs a year is simply too many to sustain so many intriguing feuds.
Lemme put it this way: how would YOU configure the PPV calendar, and booking, that you think would still be profitable, while also being interesting to a wide range of fans?
Difficulty: you can't lower the prices.
(Follow Justin on Twitter!)