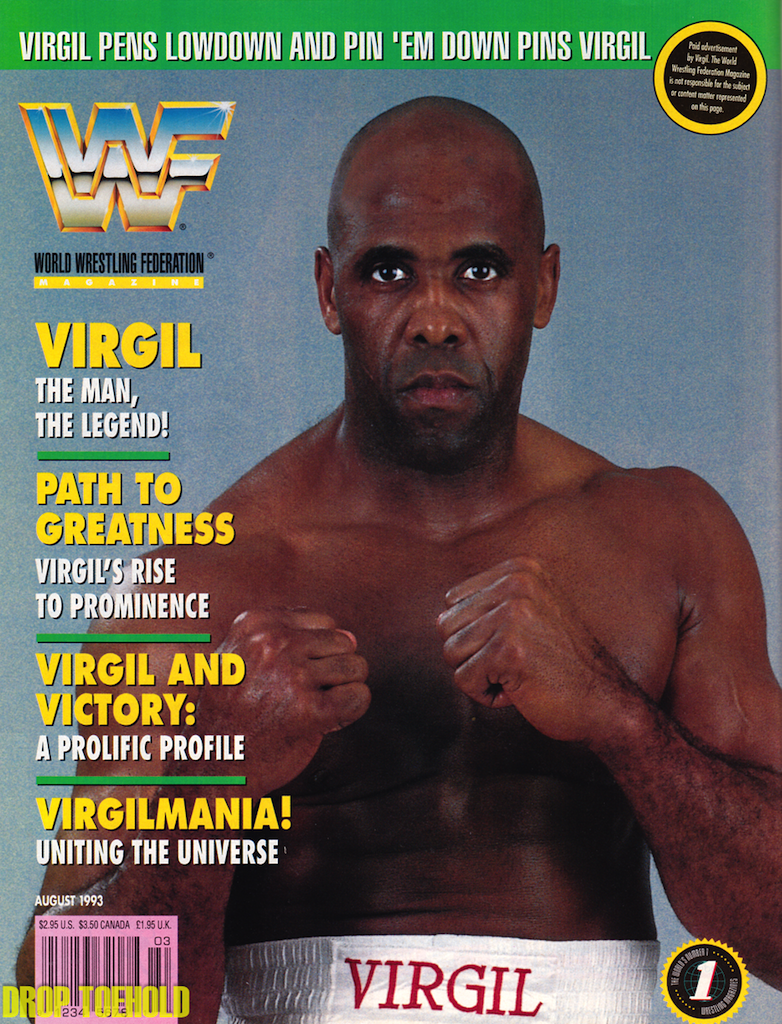 This is the epic, timeless, and long-overdue "Tribute To Virgil" issue of WWF Magazine from August of 1993.
It was a magical time when Virgilmania was sweeping the world over like some kind of gigantic broom!
People just could not get enough of Wrestling Superstar(™) Virgil. He was in the middle of his epic 2 year long World Title run, selling out arenas worldwide, even branching out into acting.
Men wanted to be him, and women wanted to be with him. Virgil reached levels of popularity with both wrestling fans and non-fans in a way that no other wrestler ever had, or ever will again!
Okay, okay, so that isn't exactly true.
Above is an insert put into WWF Magazine as a rib on poor Virgil, who apparently had been pestering the WWF asking when they were going to put him on the cover.
So, they gave him this mock cover to get him to shut up and leave them alone (hence the "Paid Advertisement by Virgil" bit).
Still, it's fun to dream of a world where Virgil is the top dog in the WWF, isn't it?
What a wonderful world that would be…
Let's celebrate Virgil in our own way by revisiting one of his greatest WWF moments- his face turn from Royal Rumble 1991 where he breaks free from the bondage of Ted DiBiase's evil clutches and becomes a MAN!: