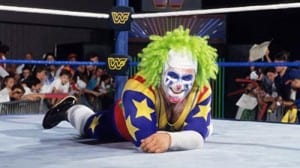 I've posted on my Facebook about it, but I thought I should hop on here and mention how saddened everyone at WrestleCrap.com is about the passing of Matt Osborne.  It seems ironic that many times folks who don't really understand what the site is all about think that we must have inducted the wrestling clown, but that was never the case.
The original Doink, the HEEL Doink, was one of the greatest wrestling characters ever.
And that wouldn't have been the case without Osborne behind the grease paint.
Look, I know that Osborne was more than just Doink.  I chronicled the saga of Big Josh, the lumberjack who wasn't allowed to carry an ax, in the early days of the site.  And I know that he was at the first WrestleMania.  But his greatest fame was as Doink.  And I cannot possibly overstate how fantastic he was in that role.
Remember when he hit Crush with a phony arm?  Vince has never been more outraged.  Heck, he thought Doink pulled his arm out of its socket!
One of my favorite matches of all time was Jerry Lawler versus Bret Hart at SummerSlam 93.  Everything about it was perfect: Bret was a fiery good guy, Jerry Lawler a completely scummy heel…you'd think adding anything would have watered it down.  Instead, Doink shows up, and it gets even better.
So thank you, Mr. Osborne.  My thoughts and prayers are with your friends and family.
You will be missed.