The Honky Tonk Man issues an open challenge for his Intercontinental Title at SummerSlam 1988.
The Ultimate Warrior answers the challenge, and proceeds to crush  The Honky Tonk Man like a bug in 31 seconds.
Hang on, I hear a knock at the door…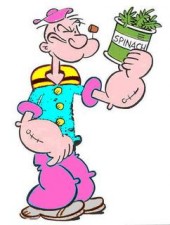 "Ooo! I wouldn't mind that big muscly Warrior fella laying down over me in 31 seconds… He could pin me and take off my big shiny belt any time! UG-GUG-GUG!"
GET OUTTA HERE, GAY POPEYE! 
Anyway, I guess this only qualifies as WrestleCrap if you're a big Honky Tonk Man fan who never wanted to see him drop the title.
Otherwise, it's freakin' awesome and one of The Ultimate Warrior's most memorable moments.