(Here's an alternative link if the above video link goes dead).
From October of 1993 on WWF "Wrestling Challenge"; The Giant Gonzalez shows up during an Adam Bomb squash match to show off his awesome impersonation of Fonzie from "Happy Days" to the crowd.
He knew it was rude to interrupt Adam Bomb's match, but he just couldn't wait one minute more for people to see how hard he was working on it.
You can tell he's been working really hard on it. Don't believe me? Just compare him with this picture of The Fonz for yourself!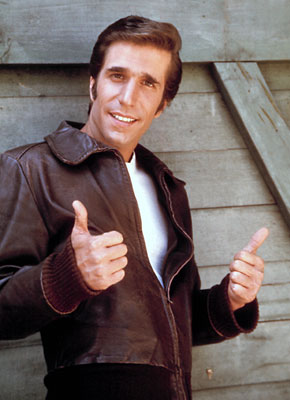 See what I mean? It's like they're practically twins!
He even bought a spiffy new leather jacket, new blue jeans, and everything!
The crowd was so entertained with this impersonation that he immediatly turned face and kind of half-heartedly lunges at former manager Harvey Wippleman and Adam Bomb (who were apparently fans of "Laverne And Shirley" instead- who knew?).
Following this exciting turn of events, he… uh well, promptly left the company. In fact, this was his last television appearance.
That's really a shame.
I mean, just think of what could have been…
Imagine Giant Gonzalez calling Jack Tunney "Mr. T." while doing the double thumbs up with a bellowing "EY!" just before he combs his hair and leaves the arena atop his ginormous motorcycle as the "Happy Days" theme song plays throughout the arena.
"Arthur Gonzarelli" = License To Print Money(™)!
Instead, after this final appearance he disappeared like Chuck Cunningham, never to be seen again.