Crapper Drew remembered seeing Repo Man in WWF Magazine wearing this mask, and he finally found this video clip from WWF Mania in early 1993 and sent it my way. He writes:
I sent Deal and email a few months ago saying that I had an old WWF magazine from 1993 where they had a photo of Repo Man's new ring gear that included a full head mask. But I can't find anyone who knows what I'm talking about and no evidence on YouTube or Google that it even existed.

JUST TODAY I found that it wasn't my imagination after all.

I feel more vindicated that I should.
This is a huge personal victory for me.
Wow! I have absolutely no memory of this at all.
He looks like he's testing a prototype for Zubaz new line of fetish-wear or something! It doesn't exactly make him look inconspicuous or help him blend in, does it?
Do any of you Crappers remember this? Why did he start wearing this mask and singlet? Did he stop wearing this mask before he was released? And if so, why?
Lord Alfred and Sean Moony talk about some kind of challenge Repo Man put out for someone to remove his mask (?) but they don't really elaborate. Hopefully you Crappers have a bette memory than I do.
Anyway, I'll always prefer the good ol' Lone Ranger look…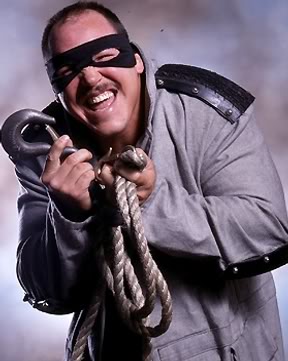 Classic!