Poor Hector Guerrero…
Before he was The Gobbledy Gooker, he was Lazer-Tron in the NWA!
The gimmick was based on a popular gun toy called Lazer Tag made in 1986 by Worlds Of Wonder (the same company who made Teddy Ruxpin).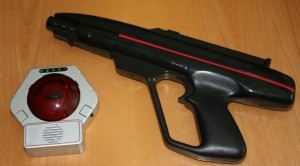 The game came with two guns and two targets. You and your friend would grab the guns, and put on the targets and try to shoot at each other's targets. The first person to hit the other person's target three times won.
So, soon after the toy came out, someone in the NWA decided to give Hector the Lazer-Tron gimmick based on the toy.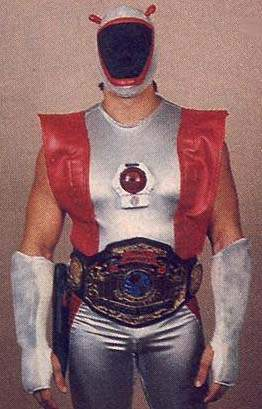 That thing on Hector's chest is support to represent one of the targets.
The game was very popular and sold like hotcakes, but I still don't know why someone thought that would translate well to a wrestling gimmick!
I guess the idea was that if they had a gimmicked based on a toy, more kids would watch the show?
Mostly, this just makes me want to play a game of Lazer Tag!