Crapper The Wedge writes:
This is The Wedge, formerly Cactus Mac on the Craphole boards.

I loved ECW and their merchandise, but I had mixed feelings when I first saw a commercial for action figures. Obviously they couldn't be trying to sell them for kids, and judging by this commercial I doubt it was for collectors. Sorry but the audio goes out in the last 5-10 seconds.
Yeah, I always thought it was really strange that they made ECW figures and marketed them towards kids.
Kids who (hopefully) weren't watching ECW.
This would be like if they made a "SAW Gross-Out Bathroom Fun Play Set" and had add-on play sets based on the traps in the movies and specificly marketed them towards 8 year olds!
But even if these were meant for the then-20-something ECW fan, I don't know why they'd have any interest in buying figures either!
So this whole idea is just stupid from the word "Go".
I was going to put this up as a Someone Bought This which I'll just copy below…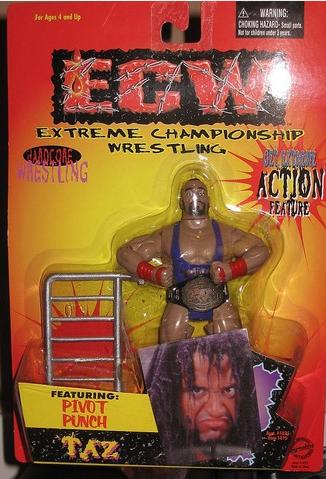 During ECW's original run they produced figures.
It says "For ages 4 and up" on the package.
Who are these supposed to appeal to?
The audience of older teenagers and 20-somethings wren't going to buy these because they aren't "collectable" figures- they're just simple toys. A 25 year old isn't going to "play" with wrestling figures (unless you're Nathaniel).
And younger kids weren't going to buy them because they (hopefully!) weren't watching ECW because it was too violent and it was on after their bedtime.
So in the end who was going to buy these?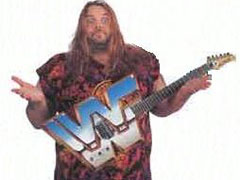 Yeah; not you, dude. That's for sure…