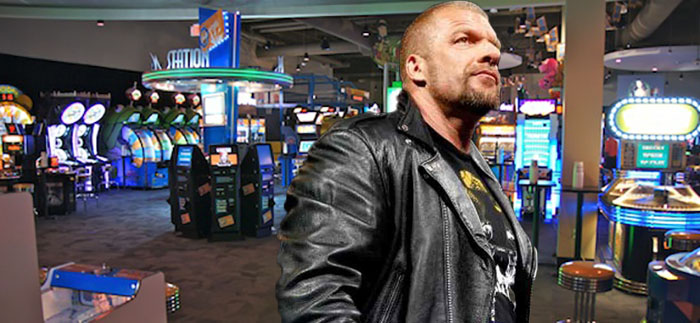 Philadelphia, PA – Following the conclusion of Monday Night Raw, WWE COO Triple H took out a large group of fans to show them that he is still cool.
"We were hanging outside one of the exits hoping to get some autographs and like an RKO, Triple H came outta nowhere and started talking to us," said ice cream sandwich maker Matthew Ryan.
"Triple H pulled up to us on his Harley. I'm pretty sure it was a rental," said eSports athlete Christopher Mounts.
"After signing our stuff, Trips was all like 'You guys hungry? I know this sweet little spot a few miles away if you want to join,'" said dog hugger Franky Rivera. "I couldn't believe it. A chance to hang out with Triple H? How could I say no? Anything would beat that time I found a drunk Michael Cole passed out on my front lawn."
"I actually got to ride on the back of Triple H's motorcycle!" said editor of IDontWriteThemIJustPostThem.com Nick Porcaro. "He didn't go too fast, but I still squeezed him extra tight."
Triple H and the group drove to North Christopher Columbus avenue in Philadelphia.
"I got two words for ya," said Triple H to the eager group. "Dave & Busters!"
Slightly disappointed, the group walked into the chain eatery and sat at a long table.
"Dave & Busters? Really? At least at Applebee's we'd get half-priced appetizers," said professional wedding-crasher Patrick Walford after the event.
When the waitress approached, Triple H said, "Alright, can we get a Mountain O Nachos, a couple of plates of boneless wings, some pretzel bites for all my new friends? Oh, and can I get some steamed edamame too?"
Noticing the questioning looks from his new friends, Triple H said, "And uh, cover those bastards with some cheese hahaha!"
Triple H then ordered a few pitchers of beer for the table and put Motorhead's "Ace Of Spades" on the jukebox.
"Pretty cool, right? I'll bet Seth Rollins doesn't even know who Motorhead is," Triple H said.
"It was nice of him to get us beer, but I noticed he got a virgin strawberry daiquiri. Kind of weird, right?" said Crocs salesman Dennis Anthony later.
"He knew all the words to Ace of Spades. Nice try, Hunter . Next time try a deep cut like 'Damage Crew' or 'Deaf Forever' if you want to impress us," said miniature golf ball washer Terrance Pryor the next day.
"You guys excited for Wrestlemania?" Triple H asked to an uncomfortable silence. "Yeah, I hear ya," he chuckled to himself. "You know if I was in charge, I'd totally have The Hardy Boyz take on the Young Bucks. Probably bring in some PWG guys, too."
During the meal, Triple H took a selfie with each member of the group, offering to let them wear his leather jacket.
"I didn't want to, but he was really insistent," said unlicensed personal masseuse Sean Matthew. "Like, he forced me to put it on. He actually bruised my shoulders putting it on. Who does that?"
"Once he took his jacket off, Triple H kept pointing to his Bullet Club shirt and 'Too sweeting' people. Dude, we get it," said cat rescuer Daniel Zambrano.
After the meal, Triple H challenged several people to rounds of Dance Dance Revolution.
"It's time to play some games!" he yelled, checking to see if anyone was laughing.
"It was kind of funny at first, but after he lost like 5 times in a row, it was just sad. He looked pretty pissed," said snack cake crème filler Aaron Oster.
As the night wore on the group grew tired and became restless. Still desperate for their approval, Triple H said, "Come on, guys! Steph's got the kids for the rest of the night! Who wants to shoot some pool? I'll buy you some Loaded Tater Tots! I'll book myself in whatever match you want! Me versus Seth Rollins! Me versus Finn Balor! Me versus whoever is popular on the internet right now! Don't go! Please!"
"Never meet your heroes," said co-host of The Sheet podcast Kevin Silva. "Actually, meet your heroes as long as their paying for dinner and drinks. That Carnivore Pizzadilla was worth all the awkwardness and desperate need for attention. I give the food seven mozzarella sticks out of ten and I give Triple H half a mozzarella stick and the tomato water left at the bottom of the cup of marinara."
Triple H was last seen running down Broad Street at 3AM screaming "Love me!" to passing cars.