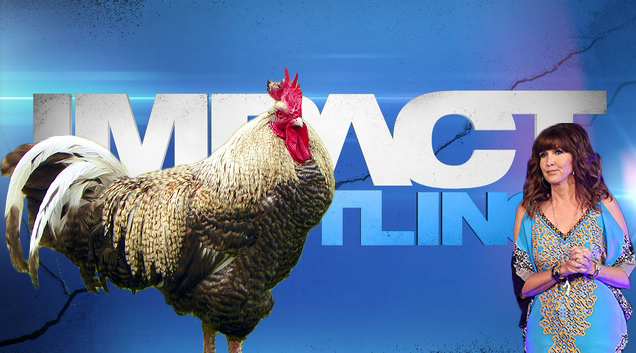 Today's Headlie was written by Crapper Paul Sebert. Thanks, Paul!
Nashville, TN – Following failed bids by Aroluxe Marketing, Billy Corgan, and Virgil TNA announced it's new financial backer at a press conference

on Wednesday

.  Dixie Carter appeared at a joint press conference with a representative from a new investment firm called "Boo Industries."
"It is with great confidence that I can say that Mr. Boo has precisely the fiscal knowledge and creative vision that TNA needs." Dixie Carter said while standing next to mysterious feathered gentleman.  "This is precisely the kind of leader that we have been looking for."
Response to the new investor has been mixed.  On an addition of Wrestling Observer Radio Dave Meltzer sounded confused.  "It was the strangest press conference I've ever seen.  It looked like Dixie announced that she sold her company to a chicken…."
"I wouldn't call anyone who invests in this company chicken."  His co-host Bryan Alvarez replied. "If anything Mr. Boo sounds recklessly brave with his money."
"No… I mean  like a giant chicken." Meltzer said.
"I think he's pretty ballsy." Alvarez counterd.
"No… I mean he was literally a giant chicken." A frustrated Meltzer responded. "With feathers… and a beak."
"Did you literally misuse the word literally?" Alvarez said.   "Whoever he is he's not chicken."
Meltzer's comments drew an angry response from TNA Fans. "This is typical Meltzer. Making personal attacks simply because he's biased against TNA." Big Dawg, a writer for TNAMecca wrote.
Later that day a conference call Dixie Carter abruptly ended with what appeared to be the sound of Dixie shrieking and a bird clucking.
"I told you he was a Chicken…" an exasperated Meltzer commented.