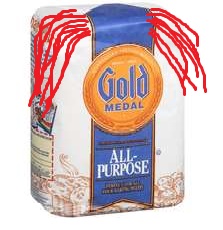 Tulsa, OK – Another round of roster cuts have once again reduced the number of wrestlers in TNA. The Knockouts division has become particularly depleted, leaving only Gail Kim, Knockouts champion ODB, and a sack of flour.
While having very little television time, the sack of flour has been with the company for several years serving as both a road agent and occasional booker. With the roster so thin, TNA President Dixie Carter has personally reached out to the sack, convincing it to take on an on-screen role.
"We're like a big family here," said Carter. "It broke my heart to see Daffney, Sarita, Awesome Kong, Sojo Bolt, Rosie Lottalove, Jenna Morasca, Angelina Love, Brooke Hogan, Tara, Taylor Wilde, Roxxi,  Jackie Gayda, Madison Rayne, Mickie James, Winter, So-Cal Val, Hamada, Rhaka Khan, Lacey Von Erich, Moose, Sharmell, Traci Brooks, Alissa Flash, Cookie, Rosita, Taeler Hendrix, Angel Williams, Talia Madison, Jacqueline, Alexa Jade,  Daizee Haze, and Raisha Saeed go. It was also tough to get rid of Velvet Sky, Taryn Terrell, Ms. Tessmacher, but we just didn't have it in the budget to keep them and their makeup on the payroll. I have high hopes that Sack Of Flour can fill the void and rise to the occasion."
When asked about the cuts, Gail Kim said, "I know it upsets the fans, but the company needs to do what's best for business. Again. Sack of Flour is a great addition to our roster. All I ask is that everyone be patient. Good things come to those who bake. I mean wait."
Sack of Flour has appeared on a few house shows against both Kim and ODB, receiving tepid reviews from both Knockouts.
"That Sack of Flour sand-bagged me!" said ODB. "Wrestling isn't a piece of cake. It takes serious preparation. You need to warm-up to the proper temperature before matches and mix well with all the other ingredients in the ring."
A rumored romance between Sack of Flour and Eric Bischoff has begun after Bischoff was seen with a white grainy substance on his face backstage.