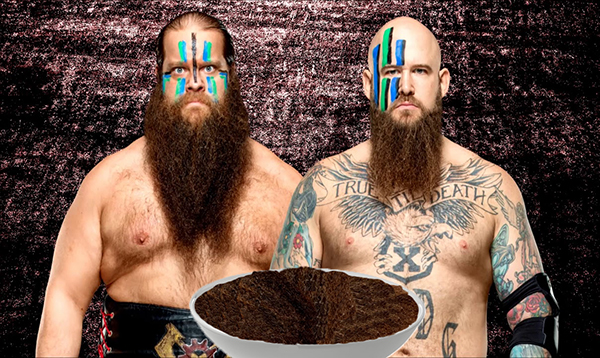 Stamford, CT – WWE officials have revealed another recipe for the upcoming "Official WWE Cookbook" just in time for the Royal Rumble.
The cookbook, which contains recipes such as Dean Ambrosia Salad, Mimosa Joes, Braun Beef Stroganoffman, and Zack Ryder's Microwave Soup For One, was formally announced by WWE Chief Brand Officer Stephanie McMahon.
"Your Royal Rumble party is going to be a huge hit with these recipes," said McMahon. "You will be munching on Bayley's Bagel Bites, AJ Styles Flat Earth Flat Iron Steak, Drew Goulash, and now our newest recipe "War Raiders Bowl Of Body Hair!"
McMahon audibly gagged while introducing the dish's namesake.
The War Raiders Bowl Of Body Hair, named after the NXT tag team, contains an arrangement of head, beard, back, shoulder, and chest hair. There are no spices, condiments, or garnishes used in the bowl.
"The people putting this together asked what food we liked and we told them: Meat," explained Rowe. "Well, apparently they needed more than that, as if there is anything else."
"They actually wanted to name a salad after us. A salad! You don't win friends with salad!" bellowed Hanson. "If the War Raiders can't give their fans a plate of meat, then we'll give them the next best thing we have!"
Rowe and Hanson yanked out handfuls of hair and then sprinkled it into a bowl.
"Eat it! Eat it now!" commanded both Superstars.
Terrified reporters took large spoonfuls of the "food" and struggled mightily to swallow the coarse hair.
War Raiders have vowed to serve their signature dish to all their opponents and internet commenters.