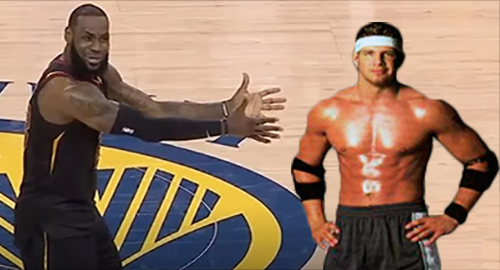 Cleveland, OH – Following their devastating sweep at the hands of the Golden State Warriors in the NBA Finals, the Cleveland Cavaliers announced that they have signed former WCW star Basket Case. Fielding questions from the press Monday morning, General Manager Koby Altman stated that the signing had been months in the making.
"The time to rebuild is now. We were so close this year, but were missing the final piece of the puzzle. Now we have that piece," declared Altman.
"I saw Basket Case on WCW Saturday Night as a kid and thought he was the coolest," said Altman. "Sure, you all probably know him as Mark Jindrak, but us real Basketheads knew him by his real name. Even back then I knew he was something special. The way he would pretend to make jump shots and spin an invisible ball on his finger.
"How will Basket Case to adjust to the NBA after being kicked out of the NCAA years ago?" asked one reporter.
"Basket has all the tools we need to make win the finals next year," explained Altman. "Size, reach, and a killer jump shot. Sure, he would never dribble, but travelling is pretty much extinct now in modern basketball so he'd be fine."
Altman dismissed concerns on how Basket Case with future Hall of Famer LeBron James.
"He can't be any worse than JR Smith. Right? Right?!" asked Altman to blank stares.