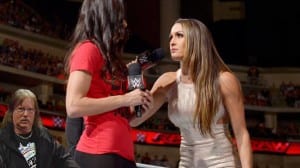 Baltimore, MD – The family feud between Brie and Nikki Bella has become a large part of WWE's programming, but many backstage are not pleased with the Bellas' performance.
"To say that I am less than happy with the Bellas is an understatement," said Stephanie McMahon. "I'm asking for white-hot rage they're giving me a hissy fit. I expect a lot more from our veterans. It's clear we needed to look outside of the WWE for help. We needed to find someone to help guide the Bellas, to help them reach deep down within and bring their true emotions to the surface. We needed an A+ player. That's when I called Donnie."
The "Donnie" that McMahon was referencing was the father of the Miz. Miz's father was last seen on WWE television several months ago casually watching his son being pummeled mercilessly by Randy Orton. For his non-efforts, he received the coveted "Father of the Year" award from the Father's Day Council as well as a "World's Best Dad" t-shirt and a honey-glazed ham.
Following another lackluster performance, the Miz's father sat down with both Bellas to work on their performances.
"Nikki," the Miz's father said flatly. "You need to internalize your emotions. Really hold it inside. No need to yell or even raise your voice. And Brie, you need to not react at all," he said between yawns. "Just stare blankly ahead. Try not to blink. Blinking doesn't work. Sorry, didn't mean to fly off the handle like that."
Nikki Bella quietly nodded as her sister Brie took notes.
"As Steven Seagal said to Jenny McCarthy in 'Saw 4D', 'Slow Ride' by Foghat is the greatest rock n' roll song ever.' I think Sir Steven was right, girls. Slow ride. Take it easy. Give the audience nothing and they'll love you even more. It worked for me," said the Miz's father as he took a long sip of Bud Light from his Randy Orton souvenir cup. He then "rested his eyes" for the the remainder of his meeting with the Bellas.
"I'm confident that with Donnie's help, the Bellas will be able to right the ship and really send this feud into overdrive," said McMahon. "Or at least get another season of Total Divas out of the E! Channel."