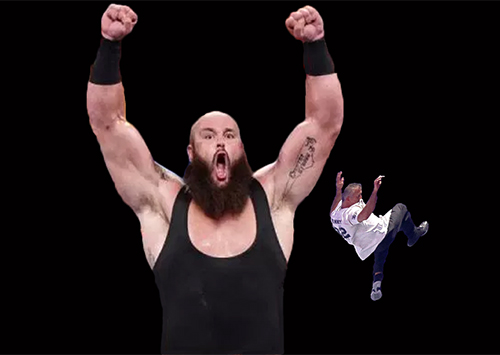 Pittsburgh, PA – Although he does not officially have a match for Wrestlemania, Shane McMahon has already announced that he plans to jump off of Braun Strowman.
McMahon has made a name for himself in recent years by jumping off of incredibly tall structures during matches. He famously jumped off an ambulance, the Titantron, and the Hell In A Cell. This year's Wrestlemania is no different.
"It's go big or go home, and no one is bigger than Braun Strowman," said McMahon. "When I stand on his shoulders, I will easily be 50, no, 90 feet in the air! I will soar through the air like a majestic leaf caught in an updraft! The crowd will finally accept me! Dad will finally love me!"
"Initially, we were going to have Shane jump from the International Space Station, but due to budgetary constraints, we had to improvise," explained Vince McMahon. Who knew signing a formerly popular non-wrestler to an enormous contract would effect other parts of the business?" chuckled Vince. "At least my precious Stephanie will be happy, and that's all that matters."
"It's an incredible honor," said Strowman about his involvement. "Shane has never jumped off of another Superstar. Not John Cena or Brock Lesnar or AJ Styles. Not even the Undertaker. It will be a Wrestlemania moment to remember. Catch these shoulders!"
WWE officials are planning to have the historic jump take place on the pre-pre-pre show, set to start at 3:00am Sunday morning.