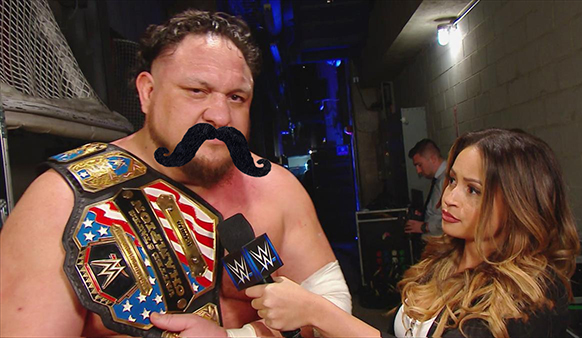 Stamford, CT – This past week's WWE writer's meeting was dominated by WWE Superstar Samoa Joe trying desperately to convince Vince McMahon that he is, in fact, American.
"Before we get started, I'd just like to say welcome to our new United States Champion, Samoa Joe," said Vince McMahon to the applause of everyone in the room. "Now, to make sure we're all on the same page, I asked Linda to pull some strings in the government and brought in a Samoan translator. Joining us from the United Nations, please also welcome Stephan Tui.
"Um, Mr. McMahon? I speak English," said Samoa Joe.
A confused McMahon looked to Tui, who explained that Joe was thrilled to be here and ready to work.
"Excellent!" said McMahon. "Naturally, we'll want to play up Joe's non-American heritage. We're going evil foreigner all the way until Wrestlemania."
"Wait, I'm American. I was born in California, for crying out loud!" said a flustered Joe.
"I think that's a fantastic idea and will be sure to make fun of all Americans," translated Tui.
"Perfect. I want Joe to do all sorts of Samoan things. Wear traditional Samoan clothes and go barefoot. Sing the Samoan national anthem. Wave the Samoan flag. Speak Samoanese. Show us your crazy passport!"
"This is ridiculous!" exclaimed Joe. "American Samoa is a U.S. territory!"
"Joe suggested that he should grow a mustache for his new role," said Tui.
"Yes! There's nothing more evil, foreign, and despicable than a mustache! Make it real big and bushy so people know he's different from us!" exclaimed McMahon. "Ugh, just thinking about it makes me sick. Yuck! Let's make it happen!"
McMahon is currently considering having Samoa Joe come to the ring at Wrestlemania on a giant mustache-shaped float.