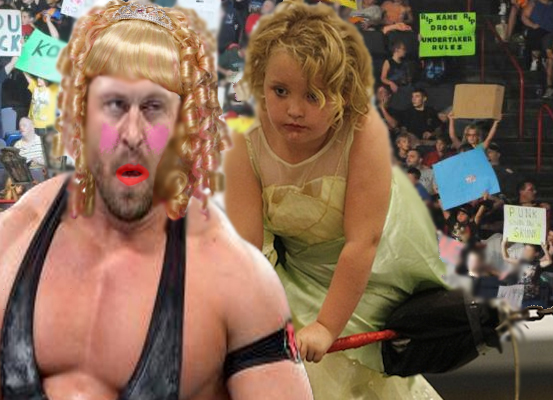 Photoshoppery by The Hawaiian Hammer
Wearing a skin-tight onesie…er singlet…and screaming "FEED ME MORE" seems more akin to a two-year-old trapped in a playpen than a hulking behemoth trapped inside the squared circle.
There's a reason for that – it was the inspiration for Ryback's new attitude.
Many think that Ryback is an offshoot from Goldberg, but those in the know say nay nay.
In fact, Ryback takes all of his inspiration from child sensation Honey Boo Boo. All the way down to his trademark stomping of his feet around the ring, Ryback is a dead ringer for the young bombshell.
They both have terrific teeth (where's the dental, Vince?) and a superb tan to accentuate those dingy yellows (Vince does offer spray tan).
Bookmakers are setting odds on whose career will end first and how it will be done. Take a gander at the odds as of 1/10/13:
Ryback by Wellness Violation: Even
Boo Boo by Gender Confusion: 2 to 1
Ryback by Botched Spot: 3 to 1
Boo Boo by Heart Attack: 10 to 1
Ryback by Future Endeavors: 15 to 1
Boo Boo by Terrorist Act: 30 to 1
You can see where the smart money lies. Drugs and trannies. Wonder if they're offering any parlays on the strip?