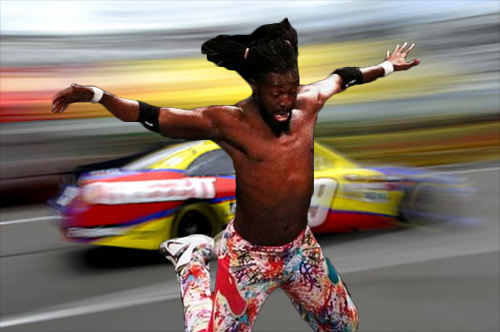 Toronto, ON – In a shocking turn of events, a race car once belonging to Randy Orton interfered in his championship match against Kofi Kingston last night at Summerslam.
On a 2009 episode of Monday Night Raw, Randy Orton received a brand-new race car as a gift from his partners in Legacy, Cody Rhodes and Ted DiBiase Jr. The car's appearance was short-lived, though, as Kingston viciously attacked the vehicle and poured paint on it. It waited almost ten years to exact revenge.
After long-fought battle, Kingston appeared ready to deliver the final blow to Orton. Suddenly, Orton's long-forgotten race car, still sporting the orange paint that Kingston had dumped on to it, screeched down the entrance ramp. In an incredible feet of automobile engineering, the race car jumped through the air, clipped Kingston, and exited up the stairs and out of the arena.
Although the action was condemned by WWE officials, several veterans praised Orton for using an old-school tactic.
Despite losing on a disqualification by attempted vehicular homicide, Orton taunted Kingston.
"Y'know, Kofi, you should always look both ways before crossing The Viper," said Orton slowly and methodically. "I just had to pull the emergency break on your championship run. Your wheels win spinning, but you were running on fumes. Ummm…make sure to wear your seat belt. Change your windshield wiper fluid regularly. Orton out!"
"VRRRROOOOOOOMMMMM!" roared the defiant race car.
Kingston's New Day partners Xavier Woods and Big E have vowed to avenge their friend who is listed as day-to-day with several bruises and road burn. A recent post on Big E's Instagram has revealed that the team has acquired Herbie The Love Bug and plan to challenge Orton and his race car to a match atop Cobo Center in Detroit.