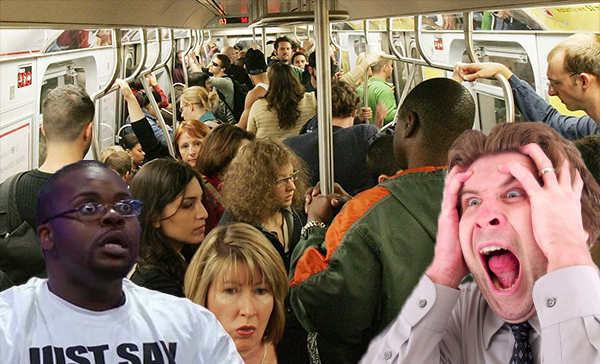 East Rutherford, NJ – Tragedy occurred for hundreds of wrestling fans as the subways they were traveling on to attend Wrestlemania became stuck on the tracks for several hours, causing them to miss the event.
"We, underestimated the sheer number of people that would be traveling via subway to MetLife Stadium, and unfortunately, the tracks could not handle the extra weight," said MTA spokesman Jon Weinstein. "It didn't help that in several cars, fans brought their tailgating equipment. I can't stress this enough, please do not bring your grill on to the subway."
"Man, I'm glad I brought my grill on the subway," said Arby's sous chef Jon Von Braunsberg. "The smoke inhalation definitely took years off my life, but, man, those burgers, brats, and Steak-Umms really hit the spot."
Due to the large number of mobile devices, cell service was unavailable, so fans could not watch the event on the WWE Network or receive updates through social media.
"I need to know what happened in the Raw Tag Team match!" screamed Dennis Quartarolo, President of the Curt Hawkins fan club. "Did Curt finally break his winless streak? I have to update the newsletter!"
"Drinking all that beer, and water, and coffee was a mistake," said professional mall Santa Scott Heisel. "But where I really messed up was eating that entire watermelon. Luckily, the subway already smells like pee, so no one really noticed when I went."
"It's hot, it smells, and I haven't eaten anything since yesterday when I went to Gray's Papaya last night, but this is still better than Wrestlemania IX," said Slurpee taste-tester Terrance Pryor.
"This is Nia Jax's fault, somehow. I'm sure of it!" exclaimed Escape Room Master Kenneth Thomas to no one in particular.
"I spent thousands of dollars on tickets, flights, hotels, and food," said inventor of the Manwich, Kevin Silva. "On the plus side, I didn't have to see Shane versus The Miz."
"This is just like that episode from the Sopranos where Paulie and Christopher are lost in the Pine Barrens, except idiots are chanting 'CM Punk!'" complained Sheetz spokesmodel Andy Peck.
"BEEEEECCCKKKKYYYYYY!" screamed meme enjoyer Daniel Deeds Leed, who had to be restrained after trying to pry the subway doors open.
"I told everyone would should drive in, but nooooooo," said Bath & Body Works candle smeller Tim Kellers. "The media said to take the train. Meltzer said to take the train. If everyone listened to me, we would have been dining on chicken finger baskets and watching seventeen wrestling matches like kings!"
While the night was full of sore feet and hurt feelings by many of these people, none suffered more than Matt Kulper, a lifelong Undertaker fan, whose train was stuck in view of the MetLife parking lot .
"As I looked out the window, I saw it: American Bad Ass Undertaker. "He was riding through the parking lot, high-fiving everyone that had driven to the stadium. He looked up at the train and our eyes connected. He just shook his head in disappointment and drove off. My life is ruined!"
MTA officials have promised to compensate all the fans who missed Wrestlemania with tickets to Impact Wrestling's next event. So far, none have accepted the offer.