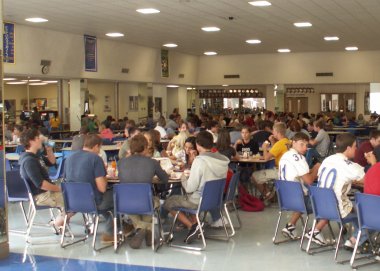 Topeka, KS – During 6th period lunch, lifetime wrestling fan Jayden Griswald let everyone within earshot know that he already hated how the John Cena-Randy Orton was going to end. This was despite the fact that the TLC Pay-Per-View was not occurring for a few more days.
"They have no idea what they're doing," said the C minus-average high school sophomore. "I can't believe they're going to have John Cena win again and become, like, super-duper mega champion. 'You can't see me?' Nobody wants to see you, loser!"
Griswald took a large sip from his Monster Assault energy drink and continued, "And, oh God, it's going to be so bad when Randy Orton wins. The McMahons would stoop that low shoving Boreton down our throats. That guy has no idea what he's doing and his father totally sucked. Vince is so stupid. Why doesn't he listen to what the fans want? My sister could book a better Pay-Per-View."
When Griswald's friend Hayden suggested that maybe Daniel Bryan would be added to the match, Griswald exploded, "That would be the worst thing ever, Hayden! You know why? Because they'd screw it up! They'd make him shave his beard or cut his hair. They'll make him change his moves.  They should just let American Dragon be American Dragon. I'll bet they just make Triple H champ and Stephanie his co-champ or something. That would so be hashtag lame. Ugh, WWE is the worst!" said Griswald as he finished his lunch of Flamin' Hot Cheetos and Gushers.
"Totally," said Griswald's other friend Brayden. "So you guys still coming to my house to watch TLC? I got a Chrome Cast, so we can watch the stream right on the TV!"
The entire group gave the affirmative as the bell rang, marking the end of their lunch.