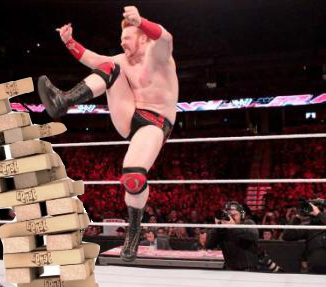 Long Island, NY – WWE Smackdown, Damien Sandow, the intellectual savior of the masses, continued his literal mind games with Sheamus.
Over the past few weeks, Sandow has been engaging the Celtic Warrior in a series of brain teasers and puzzles. During an in-ring segment in which he was joined by a large, covered object, Sandow revealed his latest challenge.
"Sheamus has proven that, beyond a shadow of a doubt, he is a boorish bully and the perfect avatar for you, the unwashed miscreants of the WWE Universe," said Sandow. "He was confounded by the Gordian Knot and flustered by the "One Ball, Three Cups" game. Both pale in comparison to my latest mind-bender!"
Sandow removed the covering to reveal a life-size version of puzzle game Jenga. Sheamus came out to the ring with an amused look on his face.
"Accept my challenge, you mayonnaise-hued fool," said an angry Sandow. The rules are so easy that even a simpleton such as yourself can follow them. You take a block from the bottom or middle and you put it on top. It teeters and it totters as you build it up. If you should knock the blocks over, you lose. Thus proving that I am your intellectual and physical better. You may go first."
"Listen, fella. I'll solve your stupid puzzle and then I'm going to take one of those blocks and shove them straight up your arse," said Sheamus to light cheering from the slightly confused crowd.
The game proceeded for several minutes, absolutely thrilling the live crowd and viewers at home. Frustrated with Sandow taking too much time during his turn, Sheamus delivered a vicious Brogue Kick to the pile of wooden blocks, knocking them over.
"You blockhead!" chuckled a triumphant Sandow. "Your own pigheadedness has once again proven to be your downfall. I am the winner and your intellectual superior. Jenga! Jenga, I say! Ha ha ha!"
Annoyed, Sheamus unleashed a Brogue Kick directly into Sandow's face, knocking him out.
When he recovered, Sandow challenged Sheamus to a game of "Hungry Hungry Hippos" for next week's show.