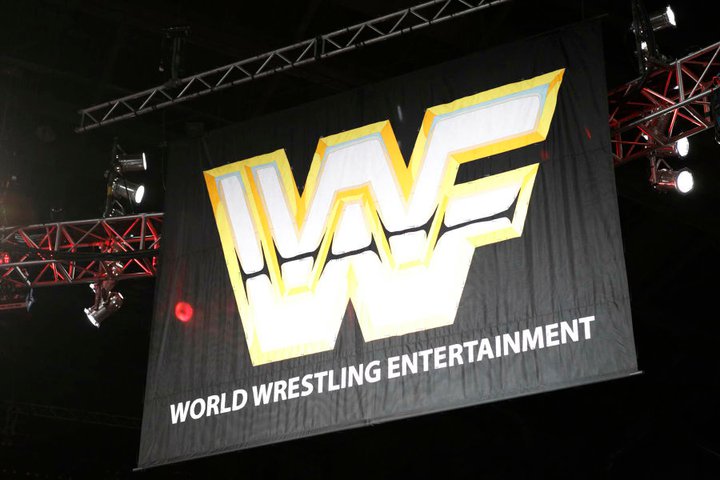 Old School Raw! A night where nostalgia reigns supreme (not so much unlike at least 6-10 other Raws per year since 2007)!
Check back at 8 PM EST for live 3 hour coverage, and tweet your thoughts to Justin, and maybe (just maybe) he'll post it within this column. He'll make ya (marginally) famous!
And just for fun, I'll be writing this rant in the spirit of…..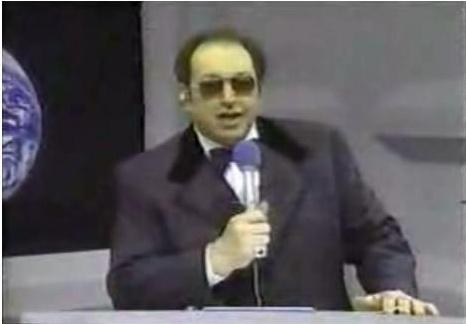 Gorilla Monsoon! It's gonna be a HAPPENING, loyal Crappers.
8:00: The fans in the First Niagara Center are literally hanging from the rafters! SRO signs went out a week ago!
8:01: Familiar music can only mean one thing: the Dead Man walks again! Huh! For whom the bell tolls, Brain!
8:03: Michael Cole may be wearing Vince McMahon's old mustard-yellow sportscoat, but he remains the same fountain of misinformation he's always been.
8:05: And speaking of misinformation, Paul Heyman accompanying his meal ticket CM Punk to ringside. I don't care who you are, Brain, you can hate the rhetoric that Punk spews on a regular basis, but there's no denying that his match with John Cena last week was a CLASSIC.
8:07: You have to wonder where Punk gets the nerve, the slightest bit of temerity, to blame the fans for him not main eventing at WrestleMania XXIX. But I admire his intestinal fortitude in challenging The Undertaker. And I wouldn't put it past Punk to get the job done; his muy thai background will give you a bad attitude in a hurry.
8:10: Randy Orton doesn't like what he's hearing, certainly making his case that HE should be the one to challenge Undertaker at WrestleMania XXIX. And now Big Show is here to add his two cents. Hoo, I hope the ring is heavily reinforced with all of this humanity entering.
8:13: And Sheamus would like a golden opportunity to end Undertaker's perfect record. But then Vickie Guerrero arrives on the scene to excrete some verbal diarrhea before this jam-packed crowd here in Buffalo. I feel Excederin headache #34 coming in. Vickie puts together a fatal four way, with the winner getting to square off with The Undertaker in 34 nights! How do ya like THOSE apples?
8:20: I don't appreciate what Antonio Cesaro has to say about the United States; it's downright insulting in ANY of the five languages he speaks. But he doesn't have to be a linguist to know that Ryback means business! Feed me more, indeed!
8:23: Cesaro foolishly trying to go muscle to muscle with Ryback, which is a good way to find yourself on the short end of the stick. He needs to take this monstrous individual down, and use some of that scientific knowledge to keep him grounded. Otherwise, I don't care how good your wrestling credentials are; you're not going to beat a man like Ryback standing up.
8:28: Back to live action, where Cesaro has swung the pendulum his way. But it doesn't last, and Ryback is getting his attitude adjusted in a hurry! Ryback manhandling him with slams and a back body drop!
8:29: Ohh, Cesaro with Swiss Death! All he has to do is get the Neutralizer, and this one is hist–no, Ryback with a counter! Into the Shell Shock! You can count to 100!
8:30: What's this? Mark Henry making an entrance, bypassing Ryback. You wonder what sort of mind games The World's Strongest Man is playing with The Big Hungry. But for now, Henry has a match with young Zack Ryder. I don't like Ryder's chances, Brain. His enthusiasm won't be enough.
8:32: And a clothesline turns Ryder inside out! World's Strongest Slam is academic. Mark Henry's about the last guy I'd want to run into in a dark alley.
8:34: This Fandango's certainly got all the parts, but can he back it up? It remains to be seen.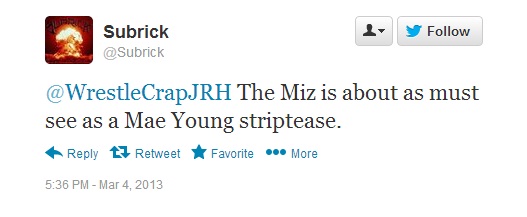 Will you be serious?!
8:38: Dolph Ziggler set to lock horns with The Miz, who brings out "The Nature Boy" Ric Flair, but not before his microphone malfunctions.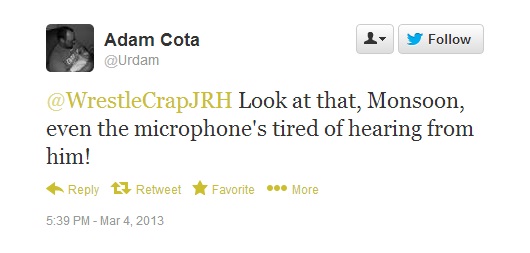 What a piece of work you are!
8:41: I certainly don't care for Ziggler's boastfulness or bravado, Brain, but even I can't deny he's a force to reckoned with. And he also doesn't have a trouble finding a date for Saturday night. Though he may wish to seek someone besides that AJ Lee. She's every bit as beautiful as she needs electroshock therapy!
8:46: Look of concern on the face of the Nature Boy, as his protege finds himself in a predicament, courtesy of The Show Off. And look, does he really need to do all of this posturing? Focus on winning the match!
8:48: And a leaping DDT halts the momentum of Miz, but only for a count of 2. I'm sensing Miz, unless he digs down deep, has two chances to win: slim and none. And slim is putting his shoes on as we speak.
8:50: C'mon ref, turn around! Big E Langston just struck The Miz! And Flair's there, chopping away! Serves Big E right! And Miz slaps on that figure four! Ziggler has no choice but to submit! What a feather in the cap of The Miz! I love it!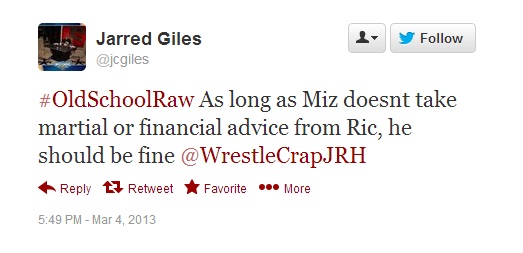 Will you STOP!
8:56: Boy, Brain, I hope you're not in on the WWE Reading Challenge. All you know how to do is look at the pictures!
8:57: And this place has literally exploded for the WWE Champion, The Rock! Rock IS the greatest professional athlete in the world today, and as long as he's the champion, it's a hard point to argue!
9:00: This is what the people have been waiting for! Over 16,000-PLUS cheering for the champion, but there's one man in the building, rest assured, who isn't a fan of The Great One! And I get the feeling he's going to make his voice heard!
9:02: The Rock's sayings are always a happening, Brain.
9:03: Uh-oh, John Cena wasn't going to stand idly by any longer and digest any more of The Rock's voice. Highly unlikely that he would let Rock have the stage all to his own.
9:06: Cena with a stoic expression on his face; these catcalls won't give him a negative attitude.
9:10: The Rock is living up to his billing; he is electrifying the people! But Cena remains nonplussed, his determination isn't so easy to shake.
9:12: You can really feel the palpable tension; so thick it can be cut with a knife. Rock trying to light the powderkeg, but Cena steadfastly refusing to explode.
9:14: Rock unloading with the heavy verbal artillery on Cena; I dare say that's enough to adjust Cena's attitude.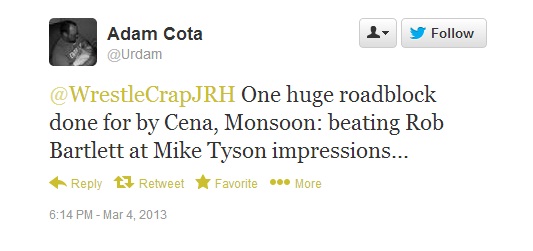 Boy, you had to dig that up, didn't you, Brain?
9:17: Let's go the event center, where Craig DeGeorge will give us an exclusive WrestleMania update!
9:20: Holy mackerel, it's a recap of Undertaker showing up!
9:21: Jack Swagger, set to take on Hacksaw Jim Duggan, here on Old School Raw. Duggan's got an entourage with him; Sgt. Slaughter and Dusty Rhodes will help him assert his patriotism! Duggan's going to have to leave the 2X4 at ringside; highly unlikely he'll get to use it.
9:23: And Swagger with a Pearl Harbor job, attacking Duggan with the 2X4! And he attacks Slaughter and Rhodes as well! Boy, when Jack Tunney rules on this miscarriage of justice, I suspect Swagger will be lighter in the wallet!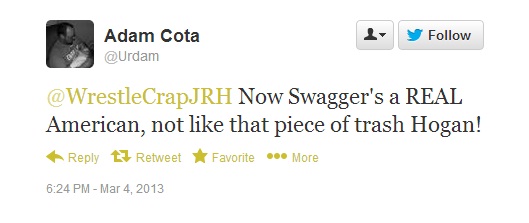 Keep it up, I'm going to knock you out.
9:26: Highly unlikely that I'll watch Marine 3, available on DVD tomorrow, but I do understand that Miz's names on the lips of many Academy members.
9:28: Kids, send those get-well letters and cards for Hacksaw Jim Duggan to "Get Well Hacksaw", care of Titan Tower…..
9:30: Alberto Del Rio wasn't about to sit back and let Swagger get away with his disgusting actions! I love it!
9:31: The Million Dollar Man Ted Dibiase conspicuous by his presence at ringside for this non-title encounter, as Team Hell No takes on The Prime Time Players. Everybody has a price for the Million Dollar Man, but is he willing to buy? That remains to be seen.
9:33: Darren Young drops a Million Dollar fistdrop into the kisser of Daniel Bryan. That'll crack his zygomatic bone for sure.
9:34: Kane now cleaning house of the Prime Time Players, and a near fall of that sidewalk slam. And a low bridge takes Titus O'Neil up and over! And a chokeslam finishes; you can count to infinity!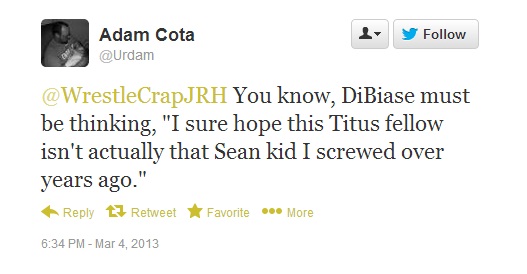 Will you be serious?!
9:36: That jumpsuit and guitar can only mean one thing: the Honky Tonk Man is going to attempt to serenade the people. It's more of a surefire cause for heartburn than anything else.
9:40: It's time to get a little funky, as Brodus Clay and Tensai make their way to ringside, accompanied by the lovely Funkadactyls! And here to join them, The Honky Tonk Man, who's as big a walking advertisement for birth control as I've EVER seen.
9:42: Heath Slater of the 3 Man Band not at all interested in what Honky has to say. I assure you that Tensai and big Brodus won't take so kindly to those remarks! And as soon as I say that, Tensai rolls up the big Scotsman, Drew McIntyre for the win!
9:44: And Honky smashes that six-stringer over the cranium of Slater! Boy, he knocked him into next week with that shot!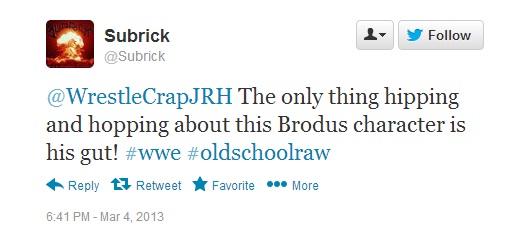 And like YOU don't tip the scales yourself, eh Brain? I see the way you raid the buffet table!
9:49: Wade Barrett's acting skills leave a lot to be desired, Brain. He looks like someone struck him in the solar plexus.
9:50: Kofi Kingston's found himself getting the loser's end of the purse on a regular basis lately. We'll see if his luck turns around against a newcomer to World Wrestling Entertainment, the narcissistic and pretentious Fandango.
9:52: Who does this joker think he is? He won't wrestle just because Justin Roberts can't pronounce his name? Who cares? If he's announced as the winner, isn't that enough?
9:54: Someone tell Kevin Dunn out in the truck that The Fink would've gotten Fandango's name right the first time!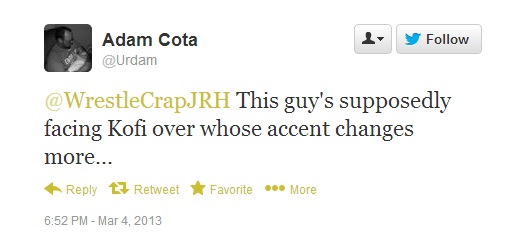 Keep it up, and you'll be out of here in a moment!
9:58: Vince McMahon, the host of WWE Superstars, found himself in the wrong part of town when Brock Lesnar was bearing down on him. Thankfully, Triple H was there to even the odds on Vince's behalf. And Lesnar, after a beating, wanted no part of The Cerebral Assassin! It's going to come to a head somewhere, some time!
10:01: A determined expression on Triple H's face; he's been through the trials and tribulations of life. He's been through a good many wars, but never has he been tested by the likes of Brock Lesnar. And without question, he has redemption on his mind.
10:03: Listen to this crowd come unglued for the Cerebral Assassin!
10:06: Holy smokes! The Game has thrown down the gauntlet for WrestleMania XXIX! He's challenged Brock Lesnar to a fight on the grandest stage of all! If Lesnar accepts the challenge, it is sure to be a happening! If you haven't called your local cable provider, do so as soon as possible! Don't get locked out of this one!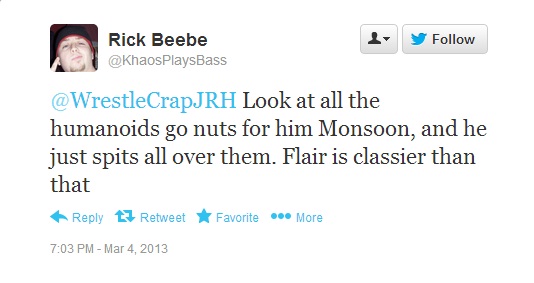 He does NOT spit on them! You need to get your eyes checked.
10:14: The Shield and their guerrilla tactics are a force to be reckoned with. They're talking now, but they might fold like a cheap suit in the presence of Big Show, should they cross paths again!
10:17: The bell has rung, and we're under way for this champion vs. champion match, with Alberto Del Rio taking on Wade Barrett. Quite the international flavor for this edition of Raw!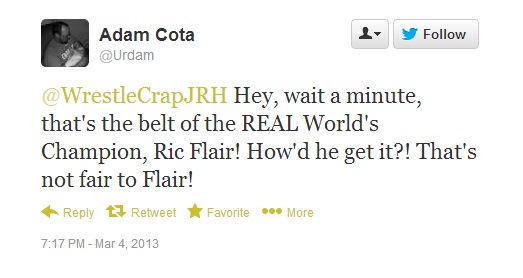 Are you going to start again?
10:19: Swagger and Coulter are getting a bird's-eye-view of the proceedings, scouting the champion before they lock horns in just 5 short weeks. Barrett, meanwhile, in control, laying those knees into the forehead of the Aristocrat.
10:21: Del Rio kicks the taste out of Barrett's mouth, but can only keep him down for 2! Intestinal fortitude on the part of the Intercontinental Champion, but he doesn't survive the Cross Armbreaker! This one's history!
10:28: This Zeb Coulter's a real piece of work. Whatever happened to "give us your tired, your pour, your huddled masses?"
10:29: The New Age Outlaws, making their return, and they look to be in incredible shape. Certainly remembered their pre-match tirade word for word! Primo and Epico will certainly have their hands full with these tag team icons.
10:31: Billy Gunn beside himself as Road Dogg finds himself in the bad part of town. Road Dogg needs a tag in the worst way as Epico and Primo have cut this ring in half!
10:33: Gunn plants Primo and gets the victory here on Old School Raw. Boy, these two have NOT missed a beat. Perhaps the championship committee will consider them for a shot at the gold.
10:38: Conspicuous by his absence so far, Jim Ross hasn't made a call so far tonight.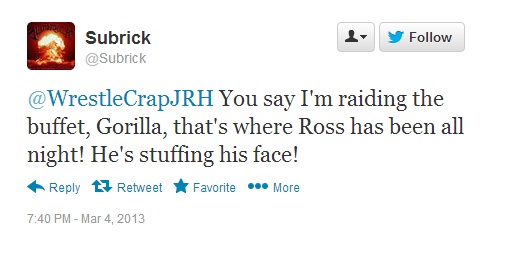 Quiet!
10:40: These kids on Tout are giving me a negative attitude in a hurry.
10:42: Mean Gene Okerlund welcoming Mae Young on her 90th birthday. Unlike most of the divas, she DOES know a wristlock from a wristwatch. And CM Punk callously makes his entrance through the birthday song! What a miscarriage of justice!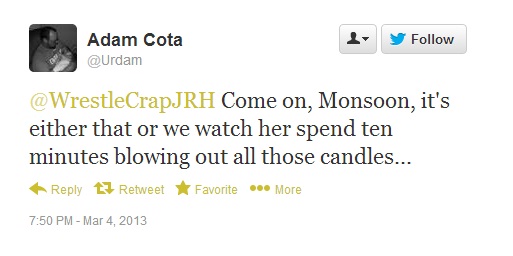 Will you STOP.
10:48: I have to admit, WWE really telegraphed their choice in WrestleMania theme, thinking that the fans would enjoy Diddy Dirty Money.
10:51: This Fatal 4 Way is under way, and Punk wisely ducks out of harm's way in the early going. Big Show taking the fight to Orton, but ends up eating the ring post! And the big man goes down like a sack of oranges!
10:52: Punk, very sneaky, trying to usurp this pinfalls, but no luck so far. Meanwhile, Big Show is back in, and the other competitors are going to need to band together if they want to neutralize the giant.
10:56: Punk pulling out all the stops as he fights for the right to take on The Undertaker at WrestleMania XXIX in East Rutherford. Sheamus commandeers control of the match, but he's really favoring that knee.
10:58: Getting into a host of near falls, really down to the nitty gritty. Oh, and Punk gets leveled by Big Show's WMD punch! He may have broken Punk's temporomandibular joint, but at least he didn't land on his external occipital protuberance.
11:00: Orton just headed Sheamus off at the pass, dropping him with a powerslam for a count of 2! And Show chokeslams both Orton and Sheamus! And it's STILL not enough! Man, I'm glad I retired!
11:02: Punk with the GTS lays out Orton! And Punk wins it! Holy smokes, it's pandemonium in here! And with the win comes the opportunity for this young man to end The Undertaker's perfect WrestleMania record! Easier said than done!
11:03: And the tolling of the bell can only mean one thing: The Undertaker, making his presence felt! The mind games are already under way, as The Phenom stalks his newest pray in the ring!
OVERALL: It was a HAPPENING.