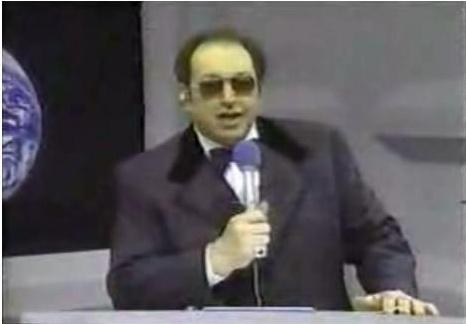 Bruce Prichard was unable to re-sign Justin before tonight's event, so Gorilla Monsoon will once again handle reviewing duties on behalf of WrestleCrap!
Prichard's lack of responsibility make Monsoon glad he retired.
8:00: A somber opening here in Indianapolis, as we pay tribute to the late great Paul Bearer. He was undoubtedly, a classic.
8:02: Holy smokes, this place is coming unglued for the arrival of "The Phenom" himself, The Undertaker! I don't care what anyone else thinks, he's more frightening than the Grim Reaper. And the urn, that symbolic urn, sits inside the ring, with Paul Bearer no longer able to raise it as a source of power.
8:06: And that Benedict Arnold, CM Punk, has disrupted Undertaker's tribute to his fallen manager! What an ingrate! Has this man no respect?
8:08: An apology is an order from CM Punk, for this complete lack of compassion and class here on Monday Night Raw. The grim look on The Undertaker's face tells the whole story.
8:12: Kids, get your parents permission before downloading the WWE App. And what's this! Kane is on the attack after what Punk said! The Big Red Monster on the rampage! I wouldn't want to be in Punk's shoes at this juncture!
8:15: Big Show about to go one on one with Seth Rollins. And you just know those other leeches, those hangers-on Dean Ambrose and Roman Reigns will be right there to stick their nose where it doesn't belong. Show might need to bring in some reinforcements.
8:17: Show takes the fight outside, and it's a 3 on 1 beatdown! That's a disqualification if I ever saw one! And The Shield has left Big Show laid out with a Triple Powerbomb! These three individuals are not wasting a golden opportunity to injure the giant. I'd be looking over my shoulder if I were these three!
8:21: And Punk is beside himself! He's scheduled to face Kane in a no disqualification match! Serves him right!
8:23: Daniel Bryan about to go one on one with Dolph Ziggler, and it's bound to be a classic. That little annoyance, AJ Lee, was certainly silenced by Bryan laying the badmouth on her Friday night. I didn't see anything wrong with his statement, but Ziggler didn't like what Bryan had to say about his meal ticket.
8:29: Bryan and Ziggler demonstrating their refined catch-as-catch-can abilities, two of the finest technicians you'll find. This contest would be a main event anywhere in the country, but here it is on at 8:30.
8:31: And Ziggler takes a hard backdrop to the outside, landing right on his kisser! Boy, that oughta throw a wrench in the works of his plans tonight. That's too bad, AJ.
8:35: Ziggler taking time out of the match to showboat. You're not going to beat Daniel Bryan with a headstand, I got news for ya pal!
8:37: Boy, those karate kicks of Bryan will certainly change your attitude in a hurry. I think I saw a tooth fly out into the crowd!
8:39: Series of near-falls exchanged between Bryan and The Show Off. Bryan had the No Lock applied, and that should have been all, but that musclehead Big E Langston dragged Ziggler to the ropes.
8:41: Ziggler with the Zig Zag to finish! A complete miscarriage of justice! Bryan will just have to get him down the road.
8:43: This Brock Lesnar/Triple H highlight package is a happening.
8:49: Tensai and Brodus make their way to the ring accompanied by the lovely Funkadactyls, and the man known as Sweet T is scheduled to wrestle Fandango, assuming he actually agrees to wrestle.
8:51: Who does this guy think he is? His name isn't important, his name could be Fred! Just get in there and wrestle!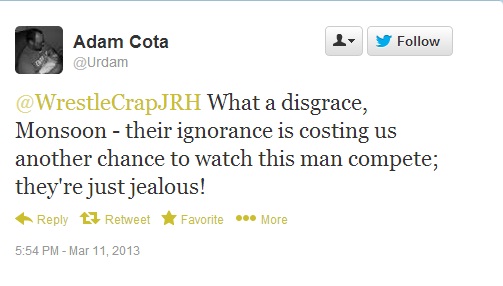 Why don't you STOP.
8:55: WWE Champion The Rock will be starring in the new blockbuster, GI Joe: Retaliation! Boy, you can cut the electricity with a knife!
8:59: We're set for action as The Rhodes Scholars will square off with the legendary New Age Outlaws. I dare say that Billy Gunn looks better than ever! Highly unlikely that these two sophisticates will put a dent in 'em.
9:02: This place is going bananas for the Outlaws! I love it!
9:03: Rhodes begins things with Road Dogg, a pair of second generation wrestlers. They both have impressive pedigrees to be sure.
9:04: Wait a minute! Brock Lesnar is here, and he brought that disgusting fountain of misinformation, Paul Heyman, with him! An F5 for Gunn, and one for Road Dogg as well! Get somebody out here!
9:06: And there it is, the challenge for WrestleMania XXIX is accepted! Brock Lesnar will square off with Triple H! But only if Triple H agrees to Brock's stipulations under duress! Boy, this Heyman is a real piece of work. The stork carrying him should have dumped him into a tire fire!
9:12: This can of Monster's gonna cut off the flow to my carotid artery if I'm not careful.
9:14: Kofi Kingston and Mark Henry is our next contest. A case of the irresistible force meeting the easily defeated object.
9:17: Henry with a knee to Kofi's face! That'll certainly break one's inferior nasal concha! World's Strongest Slam finishes; the three count was academic!
9:19: The Bella Twins are back in WWE! Double your pleasure, indeed!
9:21: This preview for Psych feels like a kick in the breadbasket. The Caucasian on the show is the biggest walking advertisement for birth control I've ever seen.
9:26: Heath Slater's chances of beating Ryback are slim and none, and slim's hailing a cab as we speak. And Mark Henry's here to get a bird's eye view of Ryback. Huh! That's a collision course if I ever thought of one.
9:27: You can count to a hundred, this one's history! But before we can get the official word, Henry hits the scene, and he's having a game of one-upsmanship with Ryback! They better heavily reinforce the ring if these two are to ever meet!
9:34: These WWE Films trailers are giving me Excederin headache #37.
9:36: Alberto Del Rio and Antonio Cesaro promises to be an exciting match-up. Conspicuous by his absence so far this evening had been Jack Swagger, who has really been laying that patriotic rhetoric on thick.
9:39: Cesaro with a beautiful counter, knocking Del Rio off that middle rope. Hook of the leg only gets 2.
9:41: A short thrust kick from Del Rio gets only 2, but it knocked the taste right out of Cesaro's mouth! He'll be eating from a straw for a week!
9:43: Cross-armbreaker applied, and Cesaro's not going anywhere. He submits in a hurry! What a feather in the cap for Alberto Del Rio, as he prepares for his biggest title defense to date at WrestleMania XXIX!
9:51: WWE is telegraphing their WrestleMania card by showing video packages involving The Rock instead of having him there in person. Judging by people selling their tickets on StubHub, the SRO signs might be coming down for this year's big event.
9:55: Orton and Sheamus, set to square off with The Rhodes Scholars, who's night isn't over just yet. The referee could lose control of this one if he's not careful.
9:57: Jack Tunney's eyeing The Rock very carefully. I hope Rock is well aware that if he doesn't defend his WWE championship within 30 days, he will be subject to a forfeiture of the title!
10:02: Sheamus overpowering Rhodes, pulling at that lovestache of this youngster. I tell you, this Sheamus is really put together. The Celtic Warrior didn't get that physique waiting for the bus.
10:04: The Rhodes Scholars were all bent out of shape in taking this match on short notice, but they're holding their own so far. And as I say that, Orton gets the tag and cleans Rhodes' clock!
10:06: Sandow's really cut this ring in half, and the Rhodes Scholars are taking to Orton. Bringing the heavy artillery, as Rhodes drops Orton with that front suplex!
10:07: Sheamus back in, and he's cleaning house! Sandow getting his bell rung with those forearm smashes on the apron!
10:09: An RKO for Rhodes and a Brogue Kick for Sandow! This one's history!
10:13: During commercial, The Shield executed a Pearl Harbor job on Orton and Sheamus. Download the app, before you miss out on these important developments!
10:16: Chris Jericho hosting a special edition of The Highlight Reel, in which two fine productions from WWE Films, starring The Miz and Wade Barrett, are presented for the fans. Oscar-caliber performances, indeed!
10:24: All of this movie talk is like a flame thrower to the solar plexus.
10:25: Brad Maddox, fountain, misinformation, birth control, yada yada yada.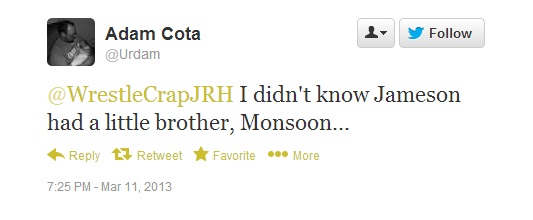 Will you STOP.
10:30: Jericho and Miz facing off for the right to face Intercontinental Champion Wade Barrett on Raw next week. Certainly has to be better than that last talking segment with Brad Maddox. Give me a break!
10:33: Jericho applies that patented Walls of Jericho, but Miz shows the intestinal fortitude to make the ropes. And as the two have a skirmish on the floor, Miz gets sent careening into Barrett! And Barrett's hot! It's a disqualification as Barrett attacks both men! But he gets his comeuppance!
10:37: Del Rio and Ricardo now, making fun of Jack Swagger and Zeb Colter. I'm sure those two are beside themselves!
10:43: Jack Swagger, making his way to the ring, likely to take his pent-up frustration out on Sin Cara. I think the lucha sensation is going to be knocked into the middle of next week!
10:47: After that Colter diatribe, nobody's literally hanging from the rafters anymore. They're headed for the exits!
10:49: Swagger with the Patriot Lock, and this one's history! And here comes Del Rio to attack! But Swagger hightails it in a hurry! Huh! That's going to be a happening, Jess!
10:57: CM Punk and Kane will go toe to toe in the main event, a no disqualification extravaganza. I wonder who'll get the short end of the stick in this one?
11:01: Pandemonium breaking loose at ringside, as Kane clears off the announce desk! Punk fights back, ringing Kane's bell with the ring bell, however!
11:05: Commercial break after the show's scheduled ending! Get your groceries and hurry back!
11:09: Punk sent hard into that steel chair, which will dislodge your superior gluteal artery!
11:12: The tolling of the bell and the smell of formaldehyde distracted Punk long enough for Kane to chokeslam him for the victory! And Punk Pearl Harbors Kane with the urn! What a miscarriage of justice!
OVERALL: I AM glad I retired.