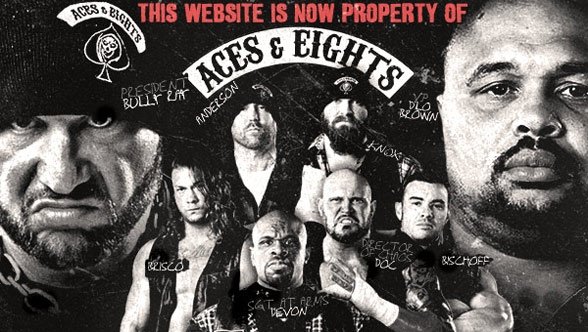 Bringing a taped show to you live at 8 PM EST!
7:57: Spike's wise to air Tokyo Drift prior to Impact; you can only go up from there.
8:00: Bully Ray uses the opening vignette to explain how the MASTA-MASTA-MASTA PLAN (copyright: Vince McMahon) came together. He says he destroyed the Hogan family. I dunno, he's giving Linda far too little credit.
8:02: You are looking TAPED from the Sears Centre Arena in Chicago. And Hulk's out first on one crutch (as opposed to the two from 'last week' in a nice touch). I only enjoy Hogan interviews when he has Mean Gene to pontificate to, but maybe he'll surprise me.
8:05: Hogan has half of his flannel shirt off to keep the crutch from chafing, I guess. He could make that a fashion trend the way he did for black beard/blonde mustache combos.
8:06: Hulk brings out Samoa Joe, Magnus, Kurt Angle (whom Hulk calls "The Cyborg", so he's a bald Cristiane Santos), and Jeff Hardy as TNA's new front line, essentially.

8:09: Jeff Hardy yells "WE, THE CREATURES", and suggests a four way match tonight, with the winner getting first shot at Bully. Two straight weeks with the guarantee of a great match (after Aries/Sting last week), so this might get a pre-emptive thumbs up.
8:13: Bully's revealing the Aces plot piece by piece. Meanwhile, Alberto Del Rio shows up as a babyface one day, with the reasoning "Well, he smiles more"
8:17: Tag Titles on the line in the opener, with Hernandez and Chavo getting the shot at Roode and Aries they missed out on a week ago. We need someone like Bill Kurtis to ask Christy Hemme how many O's are in "Roooooooooooooooode". My spelling there is a reasonable estimate.
8:20: Did you know: Chavo and Christy Hemme switched WWE brands in trades during the summer of 2005? Me either.
8:22: Aries lands a B Brian Blair "earclap" on Hernandez. For a follow-up, Roode should do the Brutus Beefcake double-stomp neck wringer move. Hernandez comes back with a double suplex on the champs before any further pointless nostalgia can occur.
8:25: Twitter is abuzz about El Generico being renamed "Sammy Sane". I don't see what the big deal is; you're not going to watch him lose to Hunico on Superstars anyway.
8:28: I've figured out Aries' gimmick: his brain is embedded with a file that lists every heel trick and mannerism of the last 30 years, and gets indignant when caught in the act of doing them. It's unique.
8:30: Hernandez's ramp-run diving shoulder block is never not fun.
8:31: Aries wipes out rana'ing Hernandez to the floor, but Chavo grounds him with the Three Amigos. He goes for the Frog Splash, but interference by Bad Influence leads to Aries rolling Chavo up for the win. Then Bad Influence jumps them to send a message. Three different teams wanna be champions? Blasphemy.
8:33: 5 Hour Energy sponsors a look at the X Division. Oh, because of the ENERGY. Chris Nowinski's concussion studies could sponsor the WWE Hardcore Title. Kenny King shills the liquid vitamin.
8:39: Kenny King, Zema Ion, and Sonjay Dutt square off next for the X Division Title as TNA has mastered WWE's art of "airing ring entrances is for pussies".
8:41: King performs a scary apron dive onto Ion against the rail as a friend texts me, asking why TNA changed "Shelton Benjamin's name." So King's getting no respect, even in near death.
8:43: King lands a cartwheel head kick on Ion, who comes back with a tornado DDT, and then immediately is hit by a slingshot dragonrana (!) from Dutt. Then Dutt moonsaults onto both heels on the floor.
8:45: Dutt lands the MoonStomp on Ion, but King gets Sonjay with a flipping neckbreaker to win. You can do worse than have a wild 5-minute match or two each week.
8:46: Brooke busts out the acting.
8:50: They sell Jeff Jarrett guitars? I'd buy one, but I'm afraid it'd put itself over at the expense of my more interesting merchandise and collectibles.
8:58: Conversational, condescending Hogan is actually a fun character. He tells Sting to "go hide in the rafters for a few years", but Sting's all about the vengeance.
9:00: Gail/Taryn recap. I think for method acting purposes, Taryn mutters "Drew" to herself when she snaps and mauls Gail. Taryn comes out to explain her rage toward Gail, who comes out in heels and a skirt, just because they knew I'd be watching. Mmmm…..
9:04: Brooke comes out in a Hulk-colored skirt and fires Taryn to Gail's glee, only to rehire Taryn as a wrestler. That's all Taryn needs to attack Gail. Ron Garvin and Greg Valentine were never so delectable. Brooke turns her back, only to be confronted by Hubby Ray, who taunts her with the wedding ring.
9:06: Brooke says "I hate you" in the same tone one might ask, "Which way is the nearest Chipotle?"
9:10: Slammiversary's coming to Boston on June 2. Odds of Bully Ray wearing a Wes Welker jersey: 3 to 1.
9:12: Bully explains the motives for each man joining the Aces. Sadly, Wes Brisco's motive wasn't "needed money to pay for my ill-thought out tattoos"
9:17: Matt Morgan takes on Joseph Park and his awesome 1990's nighttime drama music. After 2 good matches, I guess it was time for a guilty pleasure.
9:20: Park flinching on a fake Morgan punch is a nice touch. You'd think after spending 8 years doing crazy thumbtack bumps, Park wouldn't take to this role so easily. Testament to the man's abilities. Park's become my favorite comedy character since Santino Marella lost the will to be funny.
9:22: Morgan misses the Carbon Footprint, and Park builds an admirable comeback. Park misses the second rope splash and gets Footprinted and beaten. The only downside: Morgan's theme music has a great 5 second opening, and then the worst singing you'll EVER hear in a theme. I'd rather listen to a litter of puppies whine while being doused with hydrochloric acid than listen to whoever the hell that is try to sing.
9:25: AJ Styles explains himself NEXT!
9:29: Jeff Hardy wants the title back, and says never count him out. Think Stamford already did, sadly.
9:30: Tenay brings out Styles, still dressed like a homeless version of The Fisherman in I Know What You Did Last Summer. Taz disrupts the first question, and offers AJ an Aces and Eights vest, but James Storm comes out before Styles can even say a word. I wonder who Styles will point the baseball bat at?
9:33: Storm is prepared to fight Styles, who is still emoting "silent rage". The fans want them to hug it out. See what you did, WWE? Styles walks out to a chorus of boos instead.
9:36: WrestleChat has picked up the Count of 10 interview with Danny Doring that I did, due to the comments about Paul Heyman and ECW's downfall. A lot of positive anecdotes in the story as well, but the Heyman comments have sparked some interest, so if you haven't read it, check it out
9:40: Bully admits that he took the beating during the wedding to convince Hulk once and for all that he wasn't "one of them". At least one company explains their angles. And no, I never thought I'd be defending TNA to this length. What happened?
9:42: Joe, Angle, Magnus, and Hardy is next. Every time I hear the opening of Magnus' theme, I keep thinking Kanyon's making his entrance on Thunder.
9:47: Joe lands a suicide dive through the ropes on all 3 opponents to take us to the first commercial, after a four man brawl. You know, I'm really digging this formula: a vignette/promo show on the live week, and a wrestling show for the taped week. You cover the necessary elements, and you hit the major angles. Give Keneley the wrong directions to the arena, and it's a winner.
9:51: Spike's "Urban Tarzan" or USA's "Psych": which show makes me more ashamed to be Caucasian?
9:52: Magnus has control of Hardy when we come back while Joe and Angle brawl outside. LOUD "WE WANT JOE" chants break out. And this is the fourth hour of a TV taping with 6500 people, so looks like the company de-pushed the wrong guy for a while.
9:56: Jeff Twists Angle's Fate, and then does the same to Joe and Magnus as we hit the finishing sequence. Angle prevents a Swanton momentarily, and then Magnus knocks Jeff off the apron. Angle lands a series of Germans, and ankle locks Joe.
9:57: Joe kicks Angle off into Magnus, and then Hardy swantons Joe for the win. Fun match, and hopefully Joe gets a chance at a big run soon, based on the Chicago crowd's reaction. They're a good barometer.
9:59: The babyfaces gesture respect to Jeff, who stands tall as we close out.
OVERALL: Other than a slow, vignette-laden middle, it was a good WRESTLING show. Bully's timelining of his heel turn was a nice touch, but the two title matches and the four way made this a good outing.