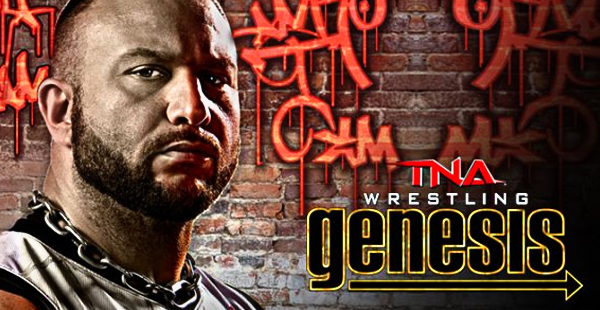 TNA Genesis (1/13/13, Orlando, FL)
1. Hernandez/Chavo Guerrero def. Matt Morgan/Joey Ryan to retain the TNA World Tag Team Titles (Guerrero pinned Ryan following powerbomb/Frog Splash combo)
Weird to see Hernandez play the face-in-peril, but it was a good formula match. Ending was a botch, as Hernandez nearly broke Ryan's neck with a scary-looking powerbomb. The  Latin contingent needs some consistent teams to go up against; WWE has better teams than they do, and that's never happened.
1 for 1
2. Mr. Anderson def. Samoa Joe with the Mic Check after Mike Knox distracted Joe
I don't know what's more played out: Aces & Eights, or Mr. Anderson's "stall because I think it makes me look cool, and it allows me to rest" offense. TNA hardly uses him in stretches, and it's not like his absence is truly noticed. When motivated, he's fine, but here, he dragged Joe down to a mediocre showing. The A&8 bit didn't help.
1 for 2
3. Christian York def. Kenny King with a Magistral cradle reversal to become #1 contender for the X Division Title
King and York have a good chemistry, and both have definable roles: King's a braggadocios prick who gets cocky and can't handle defeat, and York's the hard working never-was who is finally trying to make the most of his early potential, against the odds. King attacking York violently afterward is a simple story device that works. Highlight of the match was York hitting Low Ki's rolling flip kick to King….on the apron!
2 for 3
4. Rob Van Dam def. Christian York with the Five Star Frog Splash to retain the X Division Title
This was more story than match, with RVD trying to talk York out of taking the match due to King's attack, and York insisting on the match as part of his desperate comeback. York got his offense in here and there, but RVD dominated him. Likely, the story will continue between the 3 of them, and that's fine, because that excludes Zema Ion.
3 for 4
5. Devon def. Joseph Park Esq with a rollup
This was just fun crap. Park, after training in OVW, surprised Devon with CHAIN WRESTLING, and worked a mostly house show style of stall-fest (the fun kind, not the Anderson kind). Devon gave Park a nosebleed, and that led to a layer of character development hinted at in the training vignette: when Park sees blood, he reverts to his Abyss side and goes berserk, complete with Black Hole Slam. After mauling Devon, he snapped back into lawyer mode, and was stunned enough to be rolled up and pinned. Bad ending, but a fun match. Park's been a pleasant surprise since his introduction.
4 for 5
6. Velvet Sky won a 5-Knockout Gauntlet over Miss Tessmacher, ODB, Mickie James, and Gail Kim to become #1 contender for the Knockouts Title, last eliminating Gail
Eh, it was alright. A little too fast paced, and the plot movement (referee Taryn blew a pair of calls that screwed Mickie and Gail) makes it a tad predictable as to where this is all going. Can't really say it was anything special. Especially since Velvet wore a full bodysuit.
4 for 6
7. Christopher Daniels def. James Storm with a standing STO and his feet on the ropes
Just a great back and forth TV-style match that you'd expect out of these two. Lots of near falls at the end, and a screwjob finish that'll ensure that the angle continues. I did like the bit where Kazarian produced a manager's license so that he could stay at ringside. Gorilla Monsoon would be proud.
5 for 7
8. Sting def. DOC with a Scorpion Death Drop
A short brawl to re-establish Sting in the war against A&8, and neither he nor DOC looked bad. It just wasn't anything particularly good. Sting is, obviously, limited at this point in his career. Bully Ray helped chase off interfering A&8 members afterward.
5 for 8
9. Jeff Hardy def. Austin Aries and Bobby Roode to retain the TNA World Heavyweight Title
A very good elimination match, in which Aries and Roode sought to double team Hardy out of the contest, but their mutual hubris cost them. Highlights included Hardy hitting Aries (sitting on Roode's shoulders for a double team attack) with Whisper in the Wind, and Roode imploring Aries to go for his 450 by yelling "HIT THE THING!" Roode was double pinned by Hardy and Aries, and A-Double succumbed to two Twist of Fates and a Swanton.
6 for 9
OVERALL: the show was 2/3 enjoyable. Thumbs up, Dixie!
Follow Justin on Twitter and follow WrestleCrap on Facebook!