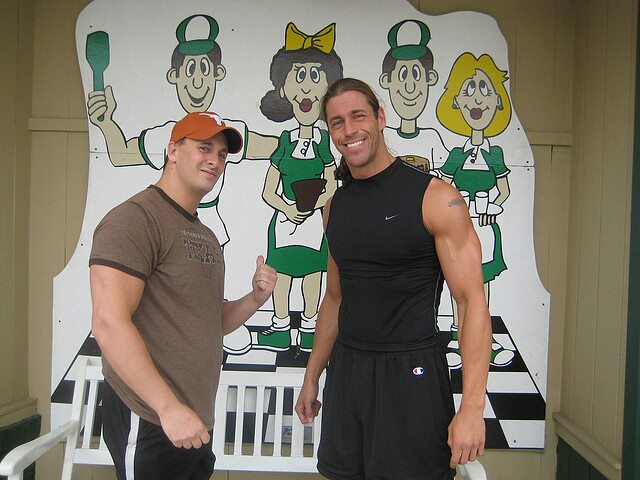 (NOTE: Go figure that two guys interviewed on WrestleCrap's Count of 10 soon get involved in one of the greatest matchups OF ALL TIME (/Kanye voice).)
(NOTE 2: Press release swiped from WrestleEnigma.com, with modifications made)
After days of intense speculation and heated negotiations we can confirm that later this week Stevie Richards will defend the Extreme Rising Championship against challenger Danny Doring, under Madden '13 rules – if you're unaware of the historic stipulation their going to play Madden '13 with the title on the line, hence Madden '13 rules.
With Extreme Rising events canceled this weekend, Stevie Richards was unwilling to let the couple hundred fans down and has instead created a super-event which has caught the imaginations of thousands, with legendary football and wrestling personalities alike choosing sides ahead of the big game which will be streamed live via the power of the Internet.
Christopher Daniels wanted to appear on the live broadcast but was unable due his contract with Total Nonstop Action Wrestling, but knowing how special this event will be he has agreed to do a dark match in-order to witness the event live – we are unaware if this dark match will be a wrestling match or a game of Madden '13, but details will be released soon.
Richards will control the Philadelphia Eagles for the big game, with quarterback Michael Vick expected to start, while Doring will manage the Dallas Cowboys, hoping that Tony Romo can catapult him to victory and the Extreme Rising Championship.
What is unclear however is whether Doring will be defending the ECW World Tag Team Championship he was pictured with over the weekend.
Both competitors will be present for the big pre-match press conference on VOCNation.com this coming Wednesday, where more details on the upcoming match will be revealed.